The beauty of ice fishing, aside from the magical prospect of sitting on top of frozen water, is that you can fish on any part of the lake (provided you have ample ice).
For those without boats, it might be that one chance to venture out over deeper waters in search of a lunker.
In North America, ice fishing is often done from inside a small portable shelter known as a fishing shanty. The benefit of a shanty is that it allows you to stay warm as well as beat inclement weather.
Ice fishing is also a great way to spend a day with friends and family—provided everybody can stay warm. While a few anglers are confident on 2.5 inches of solid ice, 4 inches is considered safe for walking.
For snowmobiles and other light craft, 5-7 inches is recommended.

Ice Fishing Setup: A Beginner's Guide
1. Safety
2. Gear
3. Technique
4. Location
1. Safety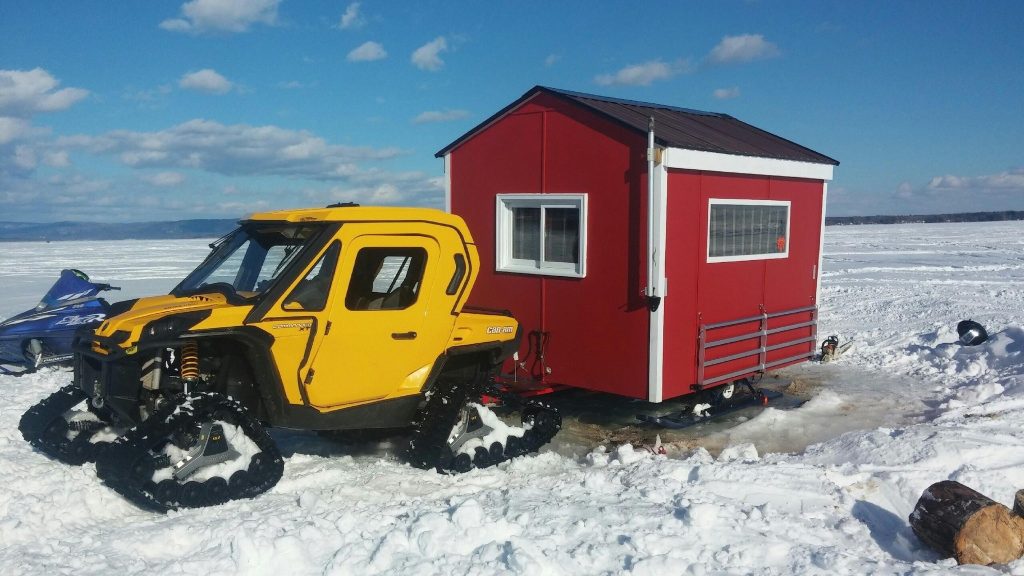 Safety Ice safety is your number one concern. Our very own ice safety primer can be found here. As always, use good judgment when walking out onto the ice.
Avoid areas with running water such as dams, spillways and streams flowing into or out of lakes. Keep in mind that slush ice is 50 percent weaker than clear ice and ice over running water is 20 percent weaker.
Also, take a buddy fishing with you—it's more fun and it could save a life.
2. Gear
The fish might be biting but without warm clothes or a way to cut a hole in the ice, you won't be catching anything.
Warm ski pants or coveralls are the best way to go. Another essential item is a stool because it keeps you elevated and off the ice.
Creating a hole in the ice can be done a number of ways, but the most efficient (if also the most cumbersome) is by augur. An ice auger is a large gas or manually operated drill that can easily burrow through a foot or more of ice.
If you don't own an augur, an axe or ice saw will do the trick. Another technique, if a little sneaky, is to locate holes made by previous fishermen where the ice isn't as thick. These can be broken through with a small hand axe or chisel known as a spud.
3. Technique
Technique Tips-up and jigging are the two most common forms of ice fishing. Jigging is done with a small, lightweight spinning rod, using brightly colored lures or jigs that are often "sweetened" with a piece of bait, such as a wax worm or minnow.
Once you've reached the depth you think the fish are at, lift the rod every now and again to produce the effect known as jigging.
Tip-ups are specialized ice fishing devices made of wood or plastic that allow anglers to fish multiple locations and depths at once.
When a fish takes the bait, a flag is released, notifying the angler. The fish is then pulled in by hand or reel depending on your setup.
4. Location
Location Settling on a location depends on the species of fish you're after. Shallow ponds and lakes are best for bass, panfish, chain pickerel and northern pike.
For trout, landlocked salmon and cusk, you'll want to fish in a deep-water lake. However, even though trout and salmon prefer deep water, it doesn't mean you'll find them there in the winter.
Trout and salmon prefer deep water because it allows them to stay cool in the summer months. During winter months, it is not uncommon to find these fish just below the ice.
Remember, if you're after bigger fish, make sure to drill your hole big enough (8-12 inches) to land it. Lastly, don't forget to pack a hot beverage to sip while you contemplate the unique position of standing on top of 40 or more feet of ice water.
Related Reads