Fishing is a recreational activity that is perfect for any age. Hence, it is neither too late nor too early for anyone to experience how wonderful fishing is. However, for you to have a more enjoyable fishing adventure, you have to bring the right fishing equipment. Regardless of your age, you need to have the best spinning rods when you go fishing.
​Spinning rods are highly versatile equipment that you can use for any types of fishing that you want to do. Also, it is very convenient and easier to use than rods for baitcasting. Depending on the specification as well as the reel that you are using, you can use it for small, medium, and large fishes.
​For you to have an idea on what product is best for you and the factors that you have to know how to choose the best spinning rods, I suggest that you continue reading this writing piece.
The Top 6 Spinning Rods On The Market
Shakespeare Ugly Stik Gx2 Spinning Rod
Abu Garcia Veritas 2.0 Spinning Rod
St. Croix Triumph Spinning Rods
Fenwick Eagle Spinning Rods
Shimano Fxs 2 Piece Spinning Rod
Ugly Stik GX2 Spinning Rod
Factors That You Need To Consider
Length
Weight
Action
Material
The Top 6 Spinning Rods On The Market
The following are the Top 5 spinning rod :
1. Shakespeare Ugly Stik Gx2 Spinning Rod
This spinning rod is known for its versatility and durability. It is also a tackle which anglers can use for both freshwater and saltwater fishing.
The construction of this spinning rod is a combination of graphite and fiberglass which is useful in countless ways. One of this feature's benefits is that it gives the ability to manipulate your jig when lure fishing.
It also allows the stick to feel the bite of small fish quickly, and its sensitivity is one of this product's highlights.
Shakespeare Ugly Stik GX2 has a one-piece guide which is also known as the Ugly Tuff which is stainless steel, a material known for being smooth and extremely durable.
Aside from these advantages, this rod has high resistance to water erosion.
Many anglers claim that rods with a one-piece guide are more sturdy since guides are held together by glue, a material which is prone to erosion and which may cause the guides to fall apart quickly.
The one-piece feature, as well as the stainless steel construction, equip this spinning rod with the highest durability possible in a spinning rod.
Shakespeare also ensures that the durability of Ugly Stik GX2 does not compromise the comfort it gives to its users. You can also avoid wrist injury and fatigue because of the rod's ergonomics which will allow you to have and enjoy a longer fishing session while its EVA foam offers high resistance to changing temperature and water erosion's corrosion impact.
Pros:
Versatile
Durable
Fiberglass and graphite construction
Has a one-piece guide which many anglers claim to be more sturdy
Comfortable to use
Highly-sensitive
Has high resistance to water corrosion
Cons:
The length may not be suitable for people with small stature
Not quite suitable for finesse fishing
2. Abu Garcia Veritas 2.0 Spinning Rod
Lightweight and strength are what this rod from another big name from the fishing tackle industry promises to its users. Aside from these, it is also well-balanced. These features are all possible because Abu Garcia utilizes 30 Ton graphite in making this rod which has Spiral Carbon Core construction, a feature which both enhances the Veritas 2.0's break strength while maintaining its lightweight.
The added design which is called Micro click reel hood also secures the firm connection between your fishing reel and your rod. This 30-Ton rating guarantees you an excellent graphite grade which is helpful in the transmission of vibration to your hands for enhanced sensitivity.
This rod makes use of a combination of a stout midsection and fast, sensitive tip which helps you feel the soft bites of your target fish quickly.
I have proven this feature efficient especially when I engage myself in walleye fishing during late summer, but it is still true even when you are fishing for bass in heavy cover.
The guides that make up this rod are premium titanium alloy that has Zirconium inserts which sit near to the rod blank, and which lessens or prevents line management issues.
On top of these features, this rod's extreme exposure reel seat enhances sensitivity and blank contact. The Split Grip handle that has super dense EVA split grips balance out each rod. Abu Garcia also designs the Texas rigged hook keeper to make it compatible with almost all baits.
Overall, this rod has a durable construction indeed, but some of its users claim that its eyepiece breaks quickly while some say that it is quite stiff.
Pros:
Well-balanced
Utilizes 30 Ton graphite
Lightweight
Sensitive
Designed to reduce line management issues
Cons:
Some users claim that the eyepiece tends to break quickly
Quite stiff
3. St. Croix Triumph Spinning Rods
This product is known for having a low price (one may cost less than a third of other rods) that does not compromise its quality. It has a construction known as SCII graphite, a unique and exclusive feature of Croix which is useful in making the rod incredibly strong and highly-sensitive while also enhancing its hook-setting power.
This rod is also complete with TCS reel seats or Fuji ECS and hardcore aluminum oxide guides.
Apart from these features, another thing which makes me like this rod is the strength it gives during a run. Also, I can always feel solid hookups whenever I use it.
Its backbone will surely direct your target fish to where you want it to be.
First-class trimmings also outfit this fishing stick. It also features finely tuned tapers and actions which both optimize its performance. The two coats of the Flex Coat slow-cure finish ensures that this rod remains durable even during severe use, and the premium grade cork handles enhance the comfort that it offers.
St. Croix Triumph Spinning Rods come in a wide variety of weights and lengths. More specifically, there are 15 of them, giving you adequate options to choose which one fits your fishing style.
Some of the downsides, according to its users, is the product's poor packaging, and other anglers say that it is another stiff rod.
Pros:
Affordable
Has SCII graphite construction
Highly sensitive
Durable
Equipped with TCS reel seats or Fuji ECS and hardcore aluminum oxide guides
Offers exceptional comfort
Come in wide range of weights and lengths
Cons:
Has poor packaging
Tends to be stiffer than other rods
4. Fenwick Eagle Spinning Rods
Fenwick promises to blend innovation and tradition through this product as it is said to be a combination of modern technology and time-tested action.
The said manufacturer also claims that this fishing rod is a result of more than 60 years of testing, innovation, and knowledge which they gained and developed from their extensive field test teams.
It is also considered an all-around spinning rod which can catch a wide variety of fish species.
Solid graphite blank makes up this item, and one of its unique features is its B2 burled cork design which helps in providing the traditional cork feel while also enhancing durability and chip resistance.
It also features stainless steel guides that also have stainless steel inserts which are sturdy, lightweight and corrosion-resistant.
The tips are very soft and sensitive, allowing it to detect even the smallest or slightest takes. The butt sections are powerful which make it advantageous over any fish types.
Fenwick Eagle Spinning Rods come in a wide range of power levels and lengths starting from ultra-light to medium-heavy, so anglers like you who would like to use these rods will surely have plenty of choices.
Despite its benefits, some users still say that the rod tends to have a weak spot which may cause occasional breakage. The two pieces may also come apart when casting.
Pros:
Combines time-tested action and modern technology
All-around spinning rod
Can catch different fish species
Durable and chip-resistant
Has stainless steel guides
Has soft and sensitive tips
Has powerful butt sections
Comes in several lengths and power levels
Cons:
Tends to have a weak spot that may cause occasional breakage
The two pieces can come apart when you cast
5. Shimano Fxs 2 Piece Spinning Rod
This product of Shimano is another rod that combines comfortability and durable construction while also giving excellent cast and balance. It has a reel seated design. The EVA foam handle is smooth which results in more comfort and ease-of-use.
Among all the rods I use, I can surely say that this one can withstand any severe weather condition, and you also have the choice if you want heavyweight, medium weight or lightweight spinning rod.
The construction of this fishing rod is aero glass blank, and in my experience of using it, I can also say that it is one of my favorites especially when I am targeting small-and medium-sized fish from the sea. Some claim that the medium weight rod is still heavyweight, but this still depends on your needs and preference.
Shimano FXS 2 Piece Spinning Rod has an eye-catching appearance because of its design. Its guides are reinforced aluminum oxide which is the most common material fishing rod manufacturers use when making fishing rods. This feature also works well for mono, braided, and fluorocarbon fishing lines.
In spite of its incredible features, many anglers claim that this rod is not as sensitive as compared to other high-end ones while other users say it has a heavy weight.
Pros:
Has a reel seated design
Has a smooth EVA foam handle
Come in many styles
Has a visually appealing appearance
Works well for any types of fishing line
Cons:
Not as sensitive as other rods
Has a heavy weight
6. Ugly Stik GX2 Spinning Rod
Ugly Stik GX2 is cheap but long enough for catchin fish in the surf. It is made for the anglers who want to go fishing at the beach.
Also you will see quite a few different lengths in this hook. The 9 ft option is preferable for only one who can take fishing in the surf. This means the medium power is just enough to take them.
Ugly stik offer the rod better balance for lighter feel and improve component. It is a combination of graphite and fiberglass to create a strong rod. Its stainless steel provides excellent durability.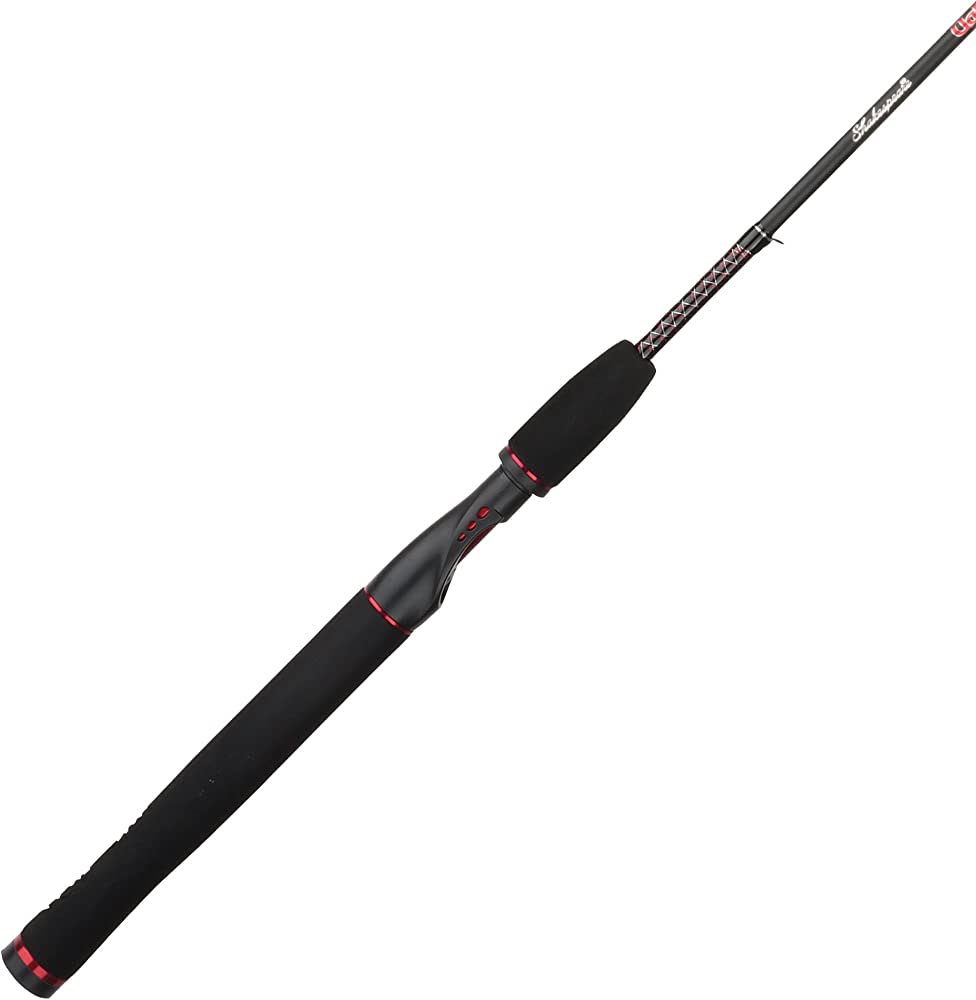 Pro:
It is avaible in spinning rod and casting rod as well
Durable
Comfotable to use
Lightweight
Has stainless steel guides
Cons:
People think they are of lower quality than higher-end
Casting with lightweight lures is not quite as accurate as other rods
Factors That You Need To Consider
Here are some factor that you need to consider while fishing:
1. Length
If you have a long spinning rod, it is more appropriate to use for fishing in huge water areas like large lakes and seas. Poles that are long are typically heavy-weight; hence, it can catch heavy weight or large fishes.
Compared to long rods, the short ones work more efficiently when it comes to catching fishes in small water areas like ponds. Small poles can work with rivers, as well, for as long as the water current is not strong.
They are also more flexible and sensitive because their structure is usually one piece while longer ones are two-piece or more.
Always remember that long rods are for large waters and large fishes whereas short rods are for small waters and small to medium-sized fishes.
Anglers usually utilize long poles when they fly fish; on the other hand, they use short poles when they are in a precise location fishing.
2. Weight
Regarding weight, you need to know first what and where you want to seize fish. If your rod is heavy-weight, it is more suitable for catching strong or large fishes as it has the strength to withstand the pull and the capacity.
Products that are weighty are more appropriate to use in waters with high current. Apart from that, they have the capacity for casting further distances.
Thus, we can conclude that poles that are heavy-weight are more suitable to use in large water areas like lakes and seas.
The fishing rods that are lightweight can work with catching large aquatic creatures; however, it will not last for a long time as it may have the possibility to break or snap.
Hence, light fishing rods are more appropriate when catching fishes that are small, or possibly when you go fly fishing.
Please also note that you must make sure that your reel matches its line capacity. Always remember that if your reel is small, you must use lighter rods, and vice versa.
3. Action
The action of a spinning rod has several types which depend on its flexibility. This factor that you should consider determines what sort of bait and reel that is suitable for your fishing pole.
The action of a rod has three categories; they are slow, moderate, and fast.
When you hook a fish while the action is fast, it means that the rod bends a third of the shaft segment.
Medium action happens when the pole bends at the middle part of the shaft.
Lastly, the action is slow when the fishing rod bends fully or flexes the overall shaft's length.
Once you seize a large aquatic creature using a pole with slow action, it will surely flex fully and may break suddenly.
When buying the product that you want, always ensure that you consider the label on the action.
5. Material
The spinning rods that are bamboo-made need servicing frequently, many fishers would rather choose refined products than the ones that are natural.
Nowadays, manufacturers use fiberglass or graphite when they produce most of the fishing rods that are available on the market, but there are instances that there are products made of both graphite and fiberglass.
Fiberglass fishing poles are now present on the market at an affordable cost, and they are more durable and heavy-weight.
If you are a novice angler, choosing a fiberglass rod is an ideal option because it has great flexibility and control.
On the other hand, graphite fishing rods are also available which are typically more costly than fiberglass poles, and they are more delicate and light-weight.
If you are the type of fisherman who catches fishes in different fishing locations to catch a variety of fish species, a combination of fiberglass and graphite is the ideal product for you.
Related Reads:
Did you like the list that I just featured?
The list I just discussed are the best of the best rods I have come across, so it is hard to come up with only one. However, with the versatility and durability of Shakespeare Ugly Stik GX2, I can say that it is the one which suits my fishing needs most of the time.
On top of the advanced technology it utilizes, the durable construction because of the combination of fiberglass graphite as well as the incredible comfort it delivers because of its EVA grips, I can say that I never had a problem with it every time I decide to bring it for any of my fishing activity.
This item is indeed my favorite. So, what is yours? I hope I was able to help you decide.
If you find this article a helpful guide for discovering and selecting the best spinning rods, please write your insights in the comments section below, or share this writing piece with your fellow anglers or friends.
FAQ
What are 6' 6 spinning rods good for?
Rods under 6'6" are ideal for trout, panfish, and younger anglers. For some bass fishing approaches, like employing swimbaits and crankbaits, longer rods over 7′ are popular. Longer rods are also the preferred option for fishermen pursuing salmon and steelhead.
What rod is best for treble hooks?
Treble hook lures are most frequently employed with medium action rods. They provide you with a decent blend of longer casting and sufficient power to effectively place the hook.
Which is better: Circle Hook or J hook?
In contrast to a J-hook, which has its tip facing up, a circular hook's point faces inward towards the shank of the hook. If you are actively fishing, J-hooks are a superior choice.