The best thing that you should consider in catching any elusive lake trout is to use the best lake trout lures, that skilled anglers always put in their fishing tackles.
In this writing piece, I have compiled all the most effective lures I have proven to catch fish quickly, especially lake trout. And it is vital to know these tools as they will ease your fishing burden and guide you in choosing which one to buy.
The Best Lake Trout Lures – An Overview
Blue Fox Classic Vibrax Spinners
The Best Lake Trout Lures
Here we have listed the best lake trout lures. Let's go through them
1. Rapala X-rap Xr10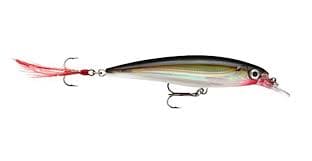 If you are a fishing enthusiast like me, you know exactly how it feels when you almost catch a fish but end up losing it because your lure is not durable enough to handle it. So if you are searching for a robust and well-built lure, I suggest that you add Rapala X-Rap to your tackle box.
Not only is Rapala X-Rap one of my favorite and most trusted tools, but Rapala.com also says that this type of fishing lure offers a lot of colors to match any situation or location. Apart from that, it also has excellent features like internal holographic foil, premium VMC black nickel hooks, and flash foil teaser tails.
Another feature that drives me crazy about this lure is its aggressive darting action. I love the feeling it gives when it hooks a fish.
I can always count on its "slash bait effect," jerky and vibrating movement. It's 3D holographic eyes also impress me because it makes me feel that it is alive. It casts like a bullet with a long accurate cast.
When I am battling with extreme cold fronts, Rapala X-Rap is one of the few lures that will surely save my rear.
Unlike other lures, it does not produce a loud rattling sound, so I love it.
I have been throwing this fishing tackle in our lake for several winters now, and it always performs well.
It is very useful to catch various fishes, especially in freshwater, so once you tie it to your line, I am sure you won't remove it for the rest of your fishing day.
The size of Rapala-X Rap can be anywhere between 1 ½ to 4 ¾ inches, and it weighs from 1/16 oz. to ¾ oz. The one that I use is the average size which is 3-⅛'' inches, weighing ¼ oz., and this is just the right size for me when I use it for lake trout. Rapala-X Rap can dive as deep as 6 feet below the surface of the water.
2 . Mepps Aglia
The fishing lures that I know that is very popular with experienced fishers is Mepps Aglia. This product of Mepps is widely well-known around the world because it is more capable of luring many fishes in freshwater and saltwater than any other lure.
As this fishing lure is highly useful for catching many fish species, it is always excellent in catching lake trout because this equipment swims in the water smoothly, which makes no line twisting.
According to Mepps.com, Mepps Aglia offers a high-visibility body, chip-resistant finish, and stainless steel wire form that ensures superior performance.
Also, The blades of this product are either polished brass or real silver plates.
Whenever I use this trout lure, it always gives me what I expect as I always catch different kinds of fish, especially lake trout, that, for some fishers, are undoubtedly hard to seize.
When you include Mepps Aglia in your fishing tackle box, it will just cost you $3.23 – $27.15, depending on the size of your choice and the size of the fish you want to catch.
Available sizes range from 0 to 4, and it can weigh anywhere from 1/18 oz. to ½ oz. Sizes 0 to 2 are appropriate for pan fishing, while sizes 3-4 are more suitable for large rainbow trout as well as steelhead and coho salmon.
Furthermore, It is surely cost-efficient on your part to purchase this product as it has been proven effective in chasing various aquatic species, especially lake trout.
3 . Little Cleo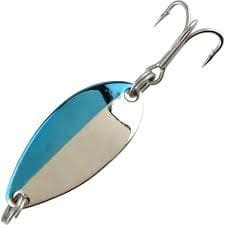 Little Cleo is one of the attractive lures that fascinate lake trout in both shallow and deep water. Lake trout are easily attracted to this type of fishing equipment because of its hump-backed shape, which also makes it wiggle and look tasty for the hungry trout.
When this kind of lure sinks in the water, it imitates the appearance of a fat fish, so it deceives other trout.
This lure will not let you down, and I can attest to that.
The one that I have has been with me for several years, and I can not forget the time when I was able to catch a 32-pound lake trout because of this valuable fishing equipment.
It comes in different colors, but my favorite is the hammered nickel fluorescent orange because it is the color that seems to attract the trout the most, and it resembles other types of trout.
Fishusa.com agrees that this kind of lure is so versatile as it moves in an inconstant and confused manner.
This movement creates an illusion to predator fish and alerts them to attack.
Little Cleo is available in different colors. Also, it is one of the lures that have the largest variety of weights and sizes. There are nine sizes, to be specific.
The lightest one weighs 1/16 oz. While the heaviest is one ¼ oz.
The one that I use is the Rainbow trout spoon which made me catch five large trout when I last used it.
4. Lucky Craft Blade Cross

Another item that my tackle should not miss is the famous Lucky Craft Blade Cross. This lure indeed makes me lucky when I fish in freshwater.
The impressive design of Lucky Craft Blade Cross and its underwater movements will surely entice your favorite lake trout.
This lure is one of the fishing materials that never fails me, even during challenging conditions. It has a vibration and a flash that is almost similar to a spinner bait, and a sight appeal that is similar to a hard bait.
It's known because it has a willow blade, three 3/5 inches long underneath its body, which is long too, and has a minnow-like head from the extended bar.
It is slowly sinking, and it has lifelike action when it travels underwater, which makes the fish deceive easily. Almost alive–that is how I describe it.
Believe it or not, I was able to catch a 2.5 lb largemouth trout because of this thing. Lucky Craft Blade Cross is available in two types (110 and 90 mm).
The 90 mm has a size of 3.54 inches and weighs around 1⁄3 oz. The other one measures 4.33 inches and has a weight of ½ oz.
There are 16 different colors that you can select, and it often goes as deep as one foot.
Once the fish notices and decides to bite it, this lure will not let go of the fish because of its super sharp treble hooks.
5. Blue Fox Classic Vibrax Spinners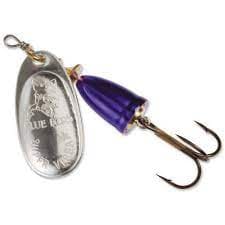 This inline spinner is an effective lure that spins flawlessly and smoothly at all speeds. It is one of the trusted lures of different anglers, and most of them suggest that you use this for early-season trout. It has a hook size that is just right for the lake trout that you are trying to catch.
I like this lure because it gives you a feeling of the fish's first grab on the lure. Its size is from 0-6; its flash and action make it hard for fish to resist. I also prefer the blue color for this type of lure as it is the one that performs very well for me. Blue Fox is another ideal tool for trapping lake trout and panfish.
Size-wise, the one which I think is most effective is the number 3, but size 2 works just fine if you are trying to catch smaller fish. It also has a reasonable price. You can get one for as economical as $4.
BCF.com highlights the anti-line feature of this product as one of its greatest characteristics. This unique design of blue fox will certainly make you say goodbye to the irritating tangles you get from all-day fishing.
When challenged by powerful strikes of aggressive big fish, this is one of the most durable lures that I can surely trust.
Related Reads:
Conclusion- Best Lake Trout Lures
If you feel that lake trout are hard to catch, like I experienced when I started seizing lake trout, using the lures listed in this article is a must-try for you.
As I have mentioned, I have proven all of them to be the most effective lures, so I am sure your fishing skills will dramatically improve if you use them.
If you think that my best lake trout lures are helpful to your trout fishing success, please feel free to post your insights in the comments section below or share this fishing article with your friends.
FAQ
Which are the best lake trout lures?
The best lake trout lures include Rapala x- rap, Mepps Aglia, little Cleo, and lucky craft blade cross, known for their effectiveness and catching lake trout.

Which colors work best with lake trout lures?
The natural shades like silver and black or bright colors such as orange or blue work best with lake trout lures.
Which is the best time to use lake trout lures?
The best time to lake trout lures is in the early mornings or late evenings, as trout tend to be more active during low light conditions.

Which size lure should I use for lake trout fishing?
Lures in the size of 3 to 5 inch range are recommended for lake trout fishing.