When it comes to fishing equipment, we often forget to buy and bring the best fishing pliers that are invaluable in situations when you have already hooked the fish.
Whether you are fishing in fresh or saltwater, bringing a fishing plier with you is a must, as this fishing equipment is indispensable for cutting fishing lines, extracting hooks from the fish, and setting up split rings.
In this post, you will learn how to choose a fishing plier among the others that are present in the market and what are the ones that are performing at their best.
Best Fishing Pliers In 2023- The Ultimate Guide
| The Different Factors While Choosing A Fishing Plier | The Excellent Fishing Pliers |
| --- | --- |
| Purpose | Piscifun Aluminum Fishing Pliers |
| Materials | Bite Fishing Pliers |
| Length Of The Nose | Madbite Fishing Pliers |
| Line Cutters | Zitrades Aluminum Fishing  Pliers |
| Split Ring Tool Ergonomics | Booms Fishing H1 Fishing Pliers |
| Weight | |
| Price | |
The Different Factors That You Should Consider In Choosing A Fishing Plier
The Following Factors should consider in choosing a fishing piler
1. Purpose
You will find out that all the fishing pliers listed below have their advantages and disadvantages, so it is not only necessary to know the excellent features of these pieces of equipment. It is also better to understand your fishing needs, as this matter is essential while you are in the process of learning how to fish. One type of tackle may work for others but not for you. Hence, based on your purpose, you can decide which one to choose.
2. Materials
The manufacturers of the best fishing pliers make use of aluminum and stainless steel. It is important to keep in mind that there are also several types of stainless steel. The low-quality ones may rust over time, so many anglers advise that you use 420 HC steel.
Some cheap aluminum fishing pliers can also quickly bend when they are under high forces, so some fishing experts suggest that you use the anodized aluminum fishing pliers as anodization makes pliers stronger.
Aircraft-grade aluminum is also ideal. Regarding the jaws, the best ones to use are those that are titanium coated and cannot quickly lose their alignment.
3. Length Of The Nose
It is necessary to consider the fishing spot when buying these tackles. Most anglers who fish in saltwater prefer the pliers which have longer noses since they will have to deal with larger and more stubborn fish.
4. Line Cutters
In choosing the most appropriate fishing pliers, you must find sharp enough line cutters as these are very versatile; they can cut even braided lines. Ordinary pliers with side cutters are fine. However, it may be difficult to use when you are cutting braids.
5. Split Ring Tool
This characteristic becomes essential when changing or replacing a treble hook on the lure. Anglers use this tool to install split rings.
6. Ergonomics
This property is an essential thing to consider because fishing conditions can affect the manner you catch a fish. It is better to choose a fishing plier that can stand extreme water conditions. Specifically, what you should be looking for is a plier that is comfortable to hold and also provides comfort when you are gripping it. That way, it will lessen the possibility of losing your catch.
7. Weight
Many anglers use lightweight pliers because they add comfort, especially when handling the grip. This feature is important because it will give the angler the ability to resist challenging fishing conditions. However, one must not also compromise the overall durability of the pliers.
8. Price
Professional anglers know that looking for and buying high-quality fishing pliers is a great investment. However, some occasional anglers need not buy expensive ones since many low-cost but reasonably efficient pliers are also available in the market.
The Excellent Fishing Pliers
Some of the excellent fishing pliers are as follows:
1. Piscifun Aluminum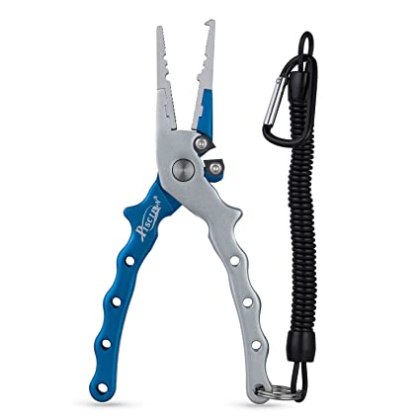 The ergonomic grip that these fishing pliers have offers lesser difficulty and add ease of use for anglers. Its aluminum handles are machine-cut and give lighter weight to the body of the pliers.
The split ring design offers quick removal from a hook eye or lure.
The jaws are titanium-coated stainless steel which guarantees durability and strength.
The tungsten carbide cutters are completely replaceable, which is essential for giving wire cuts and clean lines.
The split ring design also offers quick removal from a hook eye or lure.
It is convenient to use because of its belt loop clasp, woven nylon sheath, and coiled tether.
It is very handy that you can carry it around and put it into your pocket for convenience. Piscifun manufacturers make use of aircraft-grade aluminum for this product which is anodized for outstanding corrosion resistance.
When opening a split and removing a hook from toothy fish like Cero Mackeral, some anglers say that this tool works flawlessly.
The components of Piscifun pliers are also replaceable when needed, and the size, which is 7″, is just right for every type of fishing activity.
The weight also makes it very popular with anglers because it can be as light as 3 ounces.
Some fishing experts only suggest that the manufacturer of Piscifun can make a newer version of these fishing pliers that include a Velcro locker which anglers can use in locking the pliers and putting them quickly back in the sleeve.
Some people who use it also say that the tips of Piscifun are a little too big for tinier split rings. Most anglers claim that these characteristics cause minimal effects on the use of the pliers.
Pros
Highly-sensitive
Handy
Tungsten carbide cutters are replaceable
Easy to carry
Jaws are titanium-coated
Convenient to use
Aircraft-grade aluminum
Anodized
Cons
Can be improved by adding a Velcro locker
Tips are a little too big
2. Bite Fishing Plier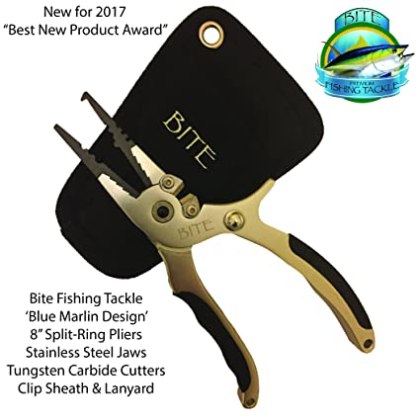 BITE fishing tackle provides aluminum fishing pliers. It is CNC machined and is known for having a tungsten carbide cutter which is very sharp.
Aside from its sharpness, the said cutter is also quickly replaceable, and it is guaranteed to cut even the strongest or heaviest fishing lines with no difficulty since it makes use of the sharpest tungsten carbide cutters which are available on the market.
The touch grips of BITE fishing tackle are so soft, which makes it comfortable for its handlers to use it. Aside from these, the said pliers also have rubber insert grips which are helpful in providing good grips even in extreme conditions.
The jaws it has are black, fully replaceable, and made of stainless steel.
There are two types of these pliers. The first variation is 7.5″ red or blue, while the second is 6.5″ blue, which also has a split ring nose.
The average weight of Bite Fishing Tackle is 6-8. The spring-loaded features of BITE fishing pliers even add to their ease of use.
Because BITE fishing tackle has anodized aluminum alloy, you can expect it to resist any corrosion.
It has a very attractive appearance, and its body is very sturdy.
Some of the downsides of this plier are that it does not have a ring opener which does not considerably affect its efficiency, according to some anglers.
Small-handed fishers may also find the handles hard to use.
Pros
Has a sharp tungsten carbide cutter
Touch grips are soft
Contains rubber insert grips
Jaws are fully replaceable
Easy to use
Cons
Has no ring opener
It may not be suitable for small-handed anglers
3. Madbite Fishing Plier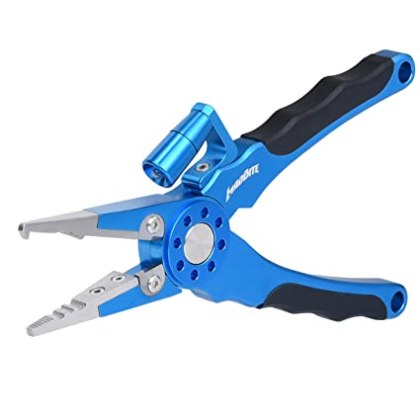 This tackle is another favorite fishing plier. It has a size of 7.5″, which is an excellent feature for two reasons: first, it gives more leverage and grip, enabling a cleaner cut faster. Second, it adds more force making it quicker to crimp.
The weight of this plier is considerably light. An average one weighs 6.5 ounces which is essential for easy hook removal from fish which are toothy.
An angler can also use this when they are surf fishing, kayak fishing, or bank fishing.
Madbite Fishing pliers are also known for being durable. Its components are very corrosion resistant because of its hard anodized aluminum pliers.
Hence, you can use it whether you are cutting braided or monofilament lines. It is spring-loaded, and the superior silicone grips do not cause corrosion, slip or keep odors.
Madbite fishing pliers are also known because they come with an ultra-bright LED bulb (about 18000 millicandelas ) which elicits a dazzling beam of light straight to work.
This tiny flashlight makes it easy for fishers to observe the work they are doing and makes it suitable for fishing even if you are doing it at night.
Some people who have used Madbite Fishing pliers claim that it will not take a long time before the screws break. Others also argue that the jaws quickly move and lose their alignment.
Pros
Has lightweight
Durable
Versatile
Unique as it comes with a LED bulb
Cons
Screws easily break
Jaws are not aligned
4. Zitrades Aluminum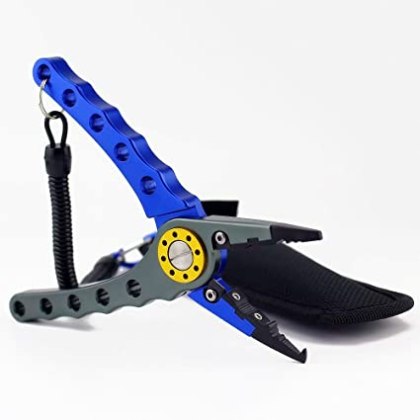 This tackle is a product of Japan, one of the leading fishing countries in the world. The body of these pliers is mainly special deluxe aluminum.
The jaws It is another lightweight fishing tackle that is also very portable because of its handles which are high-density and skidproof.
It frequently comes with a nylon sheath which helps protect the pliers. It is known for being both durable and rust-resistant.
This piece of equipment is an ideal plier if you are fishing on a boat, especially when there is constant water splash. The regular size of this plier is 7″, and it usually weighs 6.5 ounces. One of its extraordinary features is the design and appearance of its grips.
Zitrades aluminum fishing pliers come with different accessories, such as a holder, which also contains a belt loop and lanyard.
Inside the jaws are very sharp Tungsten Carbide cutters that can cut even steel wires. A split-ring opener is also at the tip, which is useful in separating rings and removing hooks.
The spring force also causes the pliers to be open most of the time.
People who use it say that the replaceable working end does not close completely. Overall, it is a great fishing plier; however, some claim that the line cutter gets dull so quickly as compared with other pliers.
Pros
Jaws are lightweight
Has very sharp Tungsten Carbide cutters
Comes with a nylon sheath
Has a good design and appearance
Comes with a holder which has a belt loop and a lanyard
Cons
Pliers do not close completely because of the robust spring force
Line cutters can quickly wear out
5. Booms Fishing H1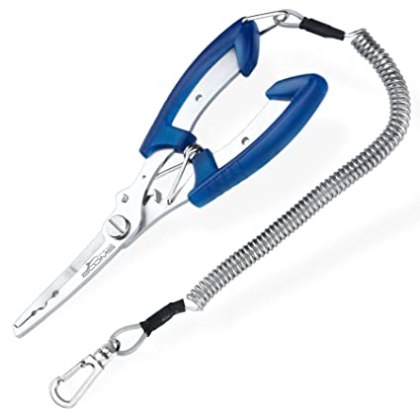 This material is another fishing tackle that many anglers prefer, along with their catfish rigs, because of its portability. It typically comes with a free belt holder sheath, making it convenient for its users to handle it.
The standard size of this tackle is 6.3″, and it has an auto-spring which is useful if you use one hand alone.
The ABS plastic handle that this tool has offered a very comfortable grip. It is lightweight and compact, which adds to its ease of use.
Another feature of this fishing tackle is its strength and durability. It makes use of 420 stainless steel which implies that you can use these for years regardless of any season. Its strength makes it a perfect pick when removing the hook, splitting rings, or cutting lines.
The available colors are black, blue, and orange and the weight is commonly around 3 ounces.
Some of its advantages include the built. The plastic construction lessens the angler's confidence in catching the fish.
The manufacturers of these pliers also design this tackle for amateur anglers, so this light fishing tackle may not be appropriate to use in freshwater. You must also ensure it is clean and dry.
Pros
Has an auto-spring
Robust
Comes in different colors
Makes use of stainless steel
Cons
More appropriate to use in freshwater
It may not inspire confidence because some plastic components
Related Reads:
Conclusion
Choosing a fishing plier requires both an evaluation of your fishing needs and consideration of the materials that make up the pliers.
As we have learned, no single fishing pliers fit all anglers' fishing situations. All of them have their limitations.
But If I am going to select one best fishing pliers, which I think would be the most helpful, versatile, and durable, I would go with Piscifun Aluminum Fishing Pliers because it has perfect ergonomics.
Even though Piscifun Aluminum Fishing Pliers have a few disadvantages, it does not fail to provide the most valuable functions of good fishing pliers.
If you think that this fishing article has helped you when it comes to your search for the most-liked fishing pliers, please don't hesitate to post your comments below or share this fishing article with your friends.
FAQ
Which are the best fishing pliers?
Some of the best fishing pliers available are Piscifun Aluminium Fishing pliers, Bite Fishing Pliers, Madbite Fishing Pliers and Zitrades Aluminium Fishing Pliers.

Do you need pliers for fishing?
Pliers are an essential tool without which you cannot go fishing. Pliers are a versatile and simple tool for removing hooks from fish's mouths or for cutting fishing lines.

Can I use regular pliers for fishing?
You can use regular pliers for fishing, which you can find in hardware stores. But, investing in fishing- specific pliers is always a better option as they provide multiple tools in one compact package.