Polarized sunglasses are excellent equipment when it comes to protecting your eyes from harmful ultraviolet rays. Constant exposure to ultraviolet rays can result in several eye-related diseases like cataracts, wrinkles, and skin cancer.
Sunglasses are an often disregarded and underappreciated component of fishing gear. The most acceptable sunglasses for fishing are polarized, shielding your eyes from UV radiation and discomfort from wind and allowing you to detect fish in the water. Use polarized sunglasses to minimize glare and boost your ability to see below the surface.
However, with so many options available on the market, it is obvious that you will get confused. This is where we step in. In this article, we will help you find the best polarized fishing sunglasses under $100. So, let us get started!
How to Choose Polarized Fishing Sunglasses Under $100? Buying Guide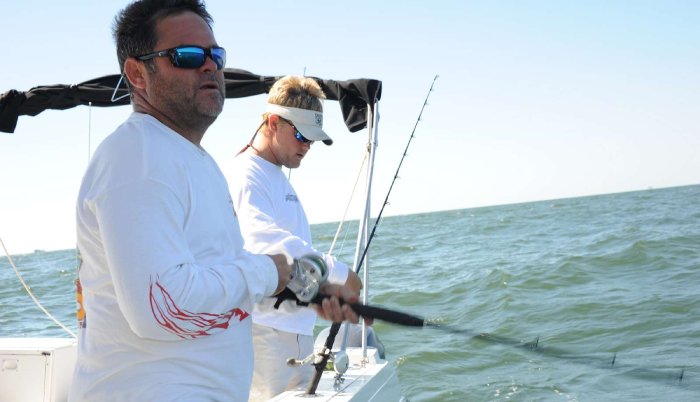 When choosing polarized fishing sunglasses for yourself, there are certain features that you must look into. These include the quality, size, weight, material, and technology of the sunglasses. In this section, we will help you understand why each of these features is important when purchasing polarized fishing sunglasses.
Quality-Since fishing is an outdoor activity mostly, it is important that your sunglasses are strong and durable. It is important to examine the build of the polarized sunglasses and recheck the material they are made up of. Most of the time, fishing is done close to the sea. For such purposes, your sunglasses must be resistant to salt water.
Size-You need comfy sunglasses for fishing. If you're out fishing all day, you don't want to find yourself taking off your sunglasses after 45 minutes because they're too tight, slipping down, or letting too much light in through the sides. The nose bridge and temples should be gripped, and the temples should be snug but not press on the side of your head. This is why you need glasses that are the perfect size for you.
The Weight of Fishing Sunglasses: The weight of your fishing sunglasses will mostly depend on the materials from which their frames and lenses are made. And your purchases should be heavily influenced by this factor. This is because, if the glasses are extremely lightweight or overweight, they will slip down your nose. Hence, before purchasing your set of glasses, do check whether the weight is optimal or not.
Must have Hydrophobic Technology: Be it fresh water or seawater fishing, fishing is an activity that exposes you to water. Hence, it is very important for your polarized fishing sunglasses to have hydrophobic technology, which will prevent the other polarization layers from depleting when exposed to water. If your sunglasses do not have a hydrophobic coating, we recommend you not purchase them.
Material of Lenses: Substitutes of plastic that are easily accessible and great for making fishing lenses include polycarbonate and trivex. Industry-standard polycarbonate is extremely impact-resistant, lightweight, and thin, but it is also easier to dent. Trivex is somewhat thicker than polycarbonate, although it is slightly more scratch and impact-resistant. Meanwhile, considering that glass is scratch-resistant, many fishermen choose it. The material is also the most refractive.
Material of Frame: You need sturdy eyewear since corrosive salty air and water generate a lot of moisture. Since nylon can tolerate severe temperatures and keep its shape, we advise using it when fishing so that your sunglasses never prematurely break. Additionally, it is quite light. Due to the weld joints, metal frames tend to corrode the fastest and are also the least durable. Acetate, which is excellent for everyday eyeglasses, is not the best for fishing because it is not good in salty conditions.
Best Polarized Fishing Sunglasses Under $100
We are here to help you discover the best polarized sunglasses under $100 that should go with your fishing expeditions. A good fishing sunglass is judged by its sturdiness and durability to last in extreme conditions. In this section, we will review a few polarized fishing sunglasses!
1. Costa Del Mar Men's Cat Cay Rectangular Sunglasses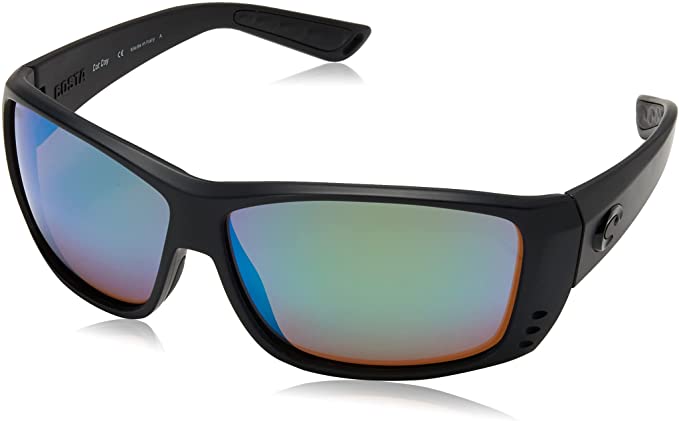 Costa's most advanced lens glass delivers the best clarity. Costa uses scratch-resistant encapsulated mirrors that are sandwiched between layers of glass.
Despite being 20% lighter and 22% thinner than the typical polarized glass lens used in the industry, Costa's glass lens still blocks 99.9% of glare.
Costa uses the most lightweight and most resilient lens material, polycarbonate, which provides all-day wearability, exceptional clarity, and impact resistance.
Anyone who spends time outside, especially on the water, needs polarized lenses. Nevertheless, not every pair of polarized sunglasses is the same.
Costa is 99.9% polarized, offering the most efficacy possible to reduce reflecting glare and lessen headaches and eye strain. It is available in six different lens colors.
Costa's mirrors provide a practical purpose in addition to being appealing in the intense sunshine.
These multilayered thin film coatings, created using a high-tech ion beam deposition procedure, result in scratch-resistant mirrors which are perfect for outdoors.
2. Bnus Italy made Classic Sunglasses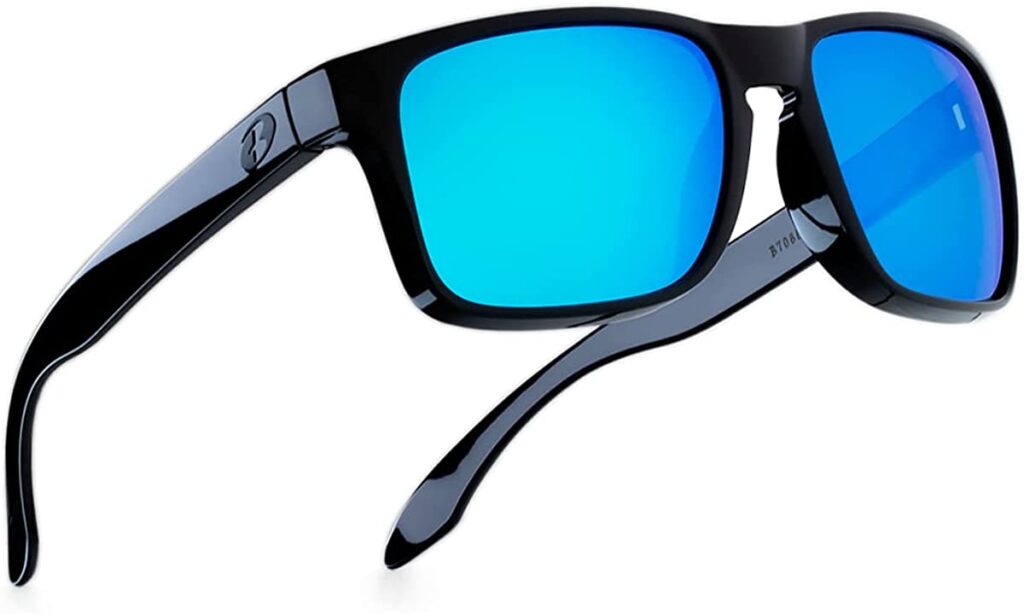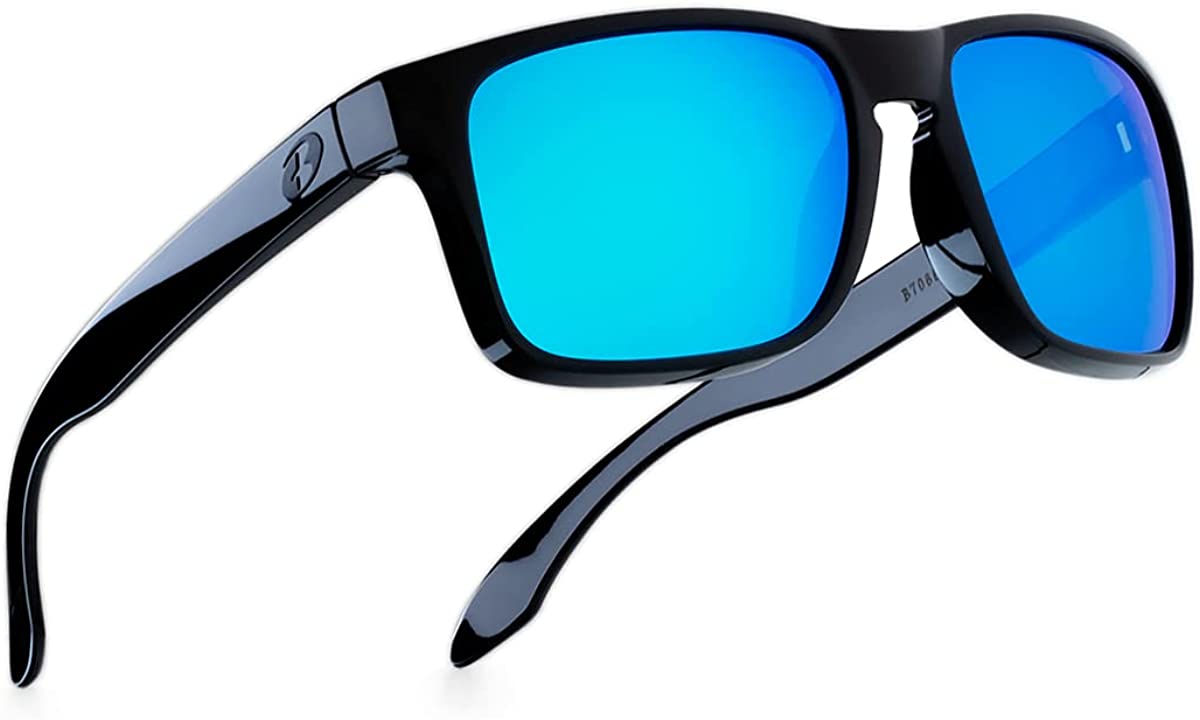 If you are looking for cost-effective polarized fishing sunglasses, then these may be your ultimate choice.
It contains a nano anti-oil easy-to-clean coating that will help you get rid of those smudges and blurs that come from water splashes.
BNUS uses glass for its lenses which offers the highest degree of clarity among materials.
The lenses are seawater corrosion-resistant lenses and are ideal for those who lead active lifestyles.
Moreover, its 100% polarisation eliminates reflected glare and lessens eye strain and, 100% UV blocking is used for optimal protection.
The classic nylon frame is colored by spraying paint/varnish and essential oil on the outer layer to finish coloring and polishing.
When casting nylon materials, BNUS incorporates plant pigments that are cured at high temperatures, leaving behind no hazardous chemicals or chemical residues and offering higher oxidation resistance.
They are unisex and you can choose the size that fits you the best from a variety of options including 53mm, 56mm, and 59mm.
3. Tifosi Dolomite 2.0 Wrap Sunglasses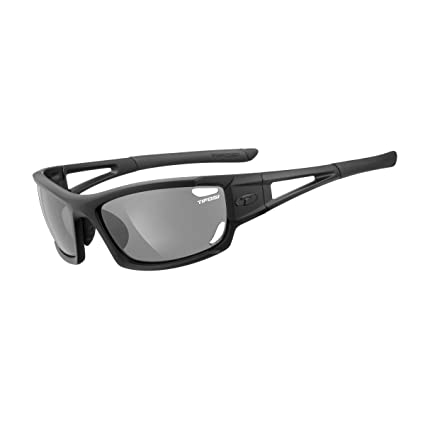 The lenses of the Dolomite 2.0 have enhanced airflow vents to help you stay cool and minimize lens fogging. Grilamid TR-90 nylon, the sturdy material used to make Tifosi sunglasses, is resistant to UV and chemical deterioration.
Because the lenses are composed of shatterproof polycarbonate, distortion and undesired magnification are eliminated.
The hydrophilic rubber nose pieces tighten their hold as you perspire. The nose pieces on Dolomite 2.0 may be altered to accommodate any facial shape.
The Fototec model is built to adapt to sunlight exposure. On the other hand, the enliven lens model fine-tunes light of different wavelengths, which makes the lens color pop.
It contains photochromatic lenses, but it is only suitable for moderate sunlight exposure. For extreme, sunlight conditions, we recommend buying fishing sunglasses with darker lenses.
It comes in three different color options to choose from – matte black, black and white, and metallic silver. The price is quite good considering the features it offers.
4. Oakley Men's Oo9236 Valve Rectangular Sunglasses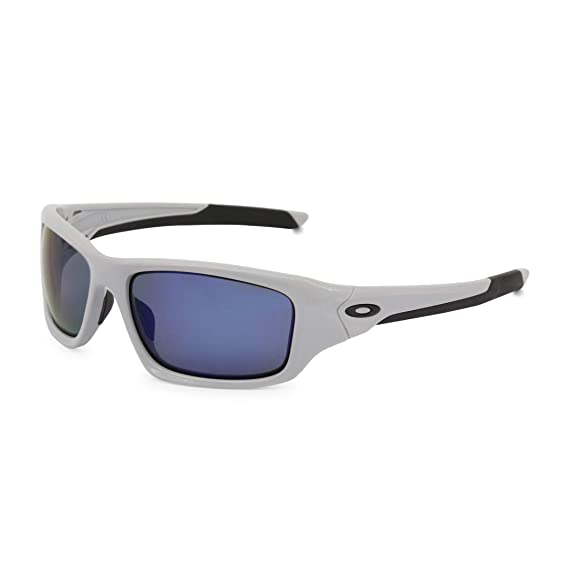 If you are looking for polarized fishing sunglasses from a trusted brand, then Oakley's Valve Rectangular sunglasses are for you.
When it comes to sunglasses, Oakley follows very rigorous standards that result in the highest quality products.
The Oakley sunglasses are made up of plutonite lenses, which provide the best UV protection available, completely blocking all UVA, UVB, UVC, and dangerous blue light up to 400 nm.
Its High Definition Optics (HDO) technology delivers outstanding optical clarity and razor-sharp vision from every angle.
Moreover, the three-point fit eliminates pressure spots that are typical of frames with hooked ears while maintaining the exact optical alignment of the lenses.
The frame is built using O-Matter, which is a lightweight, stress-resistant frame material that provides all-day comfort and protection.
The sunglasses are available in five different colors – Black/Grey Black Iridium Polarized, Matte Fog/Grey Polarized, Polished Black/Black Iridium, Polished Black/Deep Blue Polarized, and Polished Black/Positive Red Iridium.
5. SPY Optic Cyrus, Square Sunglasses, Color and Contrast Enhancing Lenses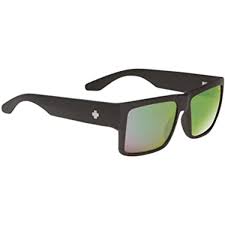 SPY's Optic Cyrus sunglasses combine the therapeutic and visual performance advantages of their unique Happy Lens with the excellent clarity of our digitally mastered High Definition lenses.
Loyal SPY users will recognize and adore this great combo of increased color and contrast, better mood and alertness, impact resistance, and distortion-free optics.
Your eyes will be protected from UV400 rays and you will have the best visual comfort with 100% UV400 eye protection that efficiently filters and blocks glare.
You can travel anywhere with these glasses. They reduce eyestrain, reflections, and glare, thus protecting your eyes from harmful UV rays.
They are ideal for many activities, including biking, boating, off-roading, fishing, hunting, and camping. All Spy Optic sunglasses are built to last and have been put to the test by top sportsmen all around the world.
The sunglasses are very stylish, and you get to choose from fourteen different color varieties!
6. Suncloud Mayor Polarized Sunglasses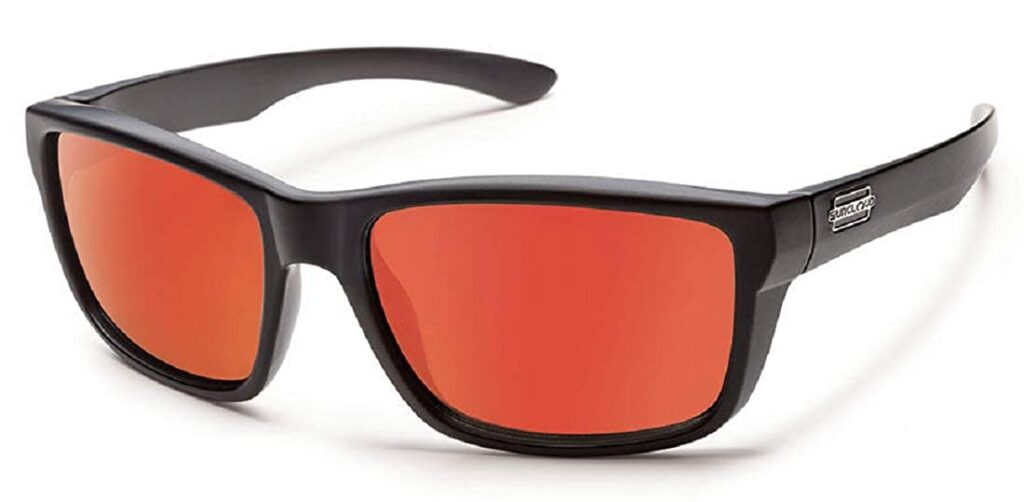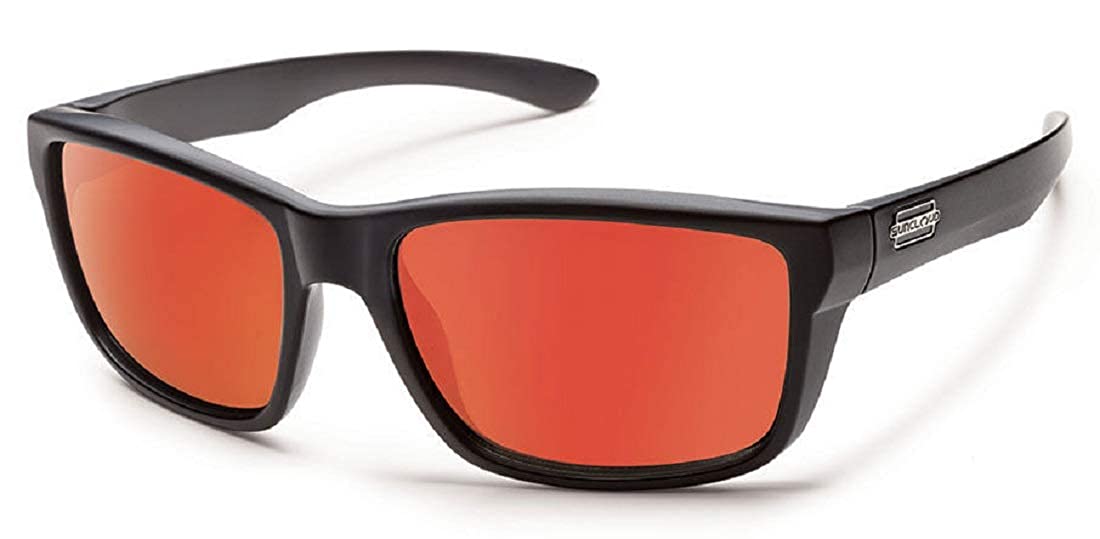 If you are looking for feature-rich but cheap polarized sunglasses, then these Suncloud sunglasses may be it!
Suncloud polarized lenses utilize cutting-edge lens technology to selectively filter the glare that results from horizontally reflected, visually distracting light waves. Direct and background glare are eliminated, resulting in improved color transmission, definition, and clarity of vision.
Every Suncloud lens is made of optical-grade polycarbonate and has a premium polarising film built into it. The outcome is glare-free vision through a thin, highly impact-resistant lens for improved safety.
Sunglasses from Suncloud come with a base frame and lens curvatures of 6 and 8. Models with six bases have a tendency to be more angular in relation to your face. While lenses and frames with eight base curves allow the wearer's face to wrap around the frame and lenses.
It comes in six different color options for you to choose from.
7. Rheos Eddies Sport Style Floating Polarized Sunglasses


The Rheos Eddies Sunglasses are high-performance floating sunglasses for both men and women. Since the Eddies won't sink, you may recover them and enjoy the water as you like without worrying about losing them.
The HydroClear Nylon Optics used in Rheos Eddies optics is the largest breakthrough in lens technology since polarisation.
The Eddies are rated for 120 hours of continuous exposure to humidity and saltwater, the greatest in the market. They have been lab-tested to be clearer than glass (with all the advantages of polycarbonate lenses).
Rheos sunglasses are as light as a feather, as durable as a rock, and as transparent as glass when it comes to clarity, comfort, and impact.
All lenses include protective coatings that shield them from shattering, scratches, and cracking as well as against seawater and fingerprints.
They are quite under budget and they are suitable for almost all kinds of water sports, including fishing.
8. Suncloud Zephyr Polarized Sunglasses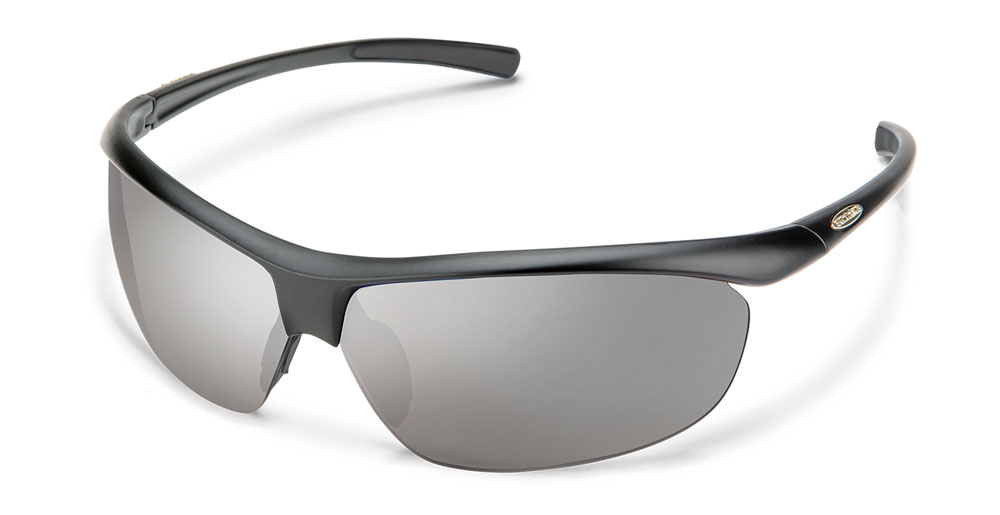 If you are looking for extremely lightweight sunglasses with a sporty design, then these may be the perfect choice for you.
Suncloud EvolveTM, a patented material, is used to make injection-molded eyeglass frames for the Suncloud Zephyr Polarized sunglasses; it is 53% biodegradable and reduces the need for petroleum in the production of eyeglasses.
For your athletic performance requirements, optical-grade polycarbonate lenses that withstand impact are lightweight and comfortable to wear all day.
For improved visual clarity and less eye strain, polarised glasses minimize glare from water, snow, sand, and pavement by 99 percent.
Even while you're working up a sweat, hydrophilic Megol nose cushions absorb moisture and hold the eyewear firmly in place.
The sunglasses wrap around the Base 9 lens for substantial side coverage. Most faces can be suited using a universal fit, and it also includes a microfiber storage bag that may be used to wipe any lens smudges.
9. RIVBOS Polarized Sports Sunglasses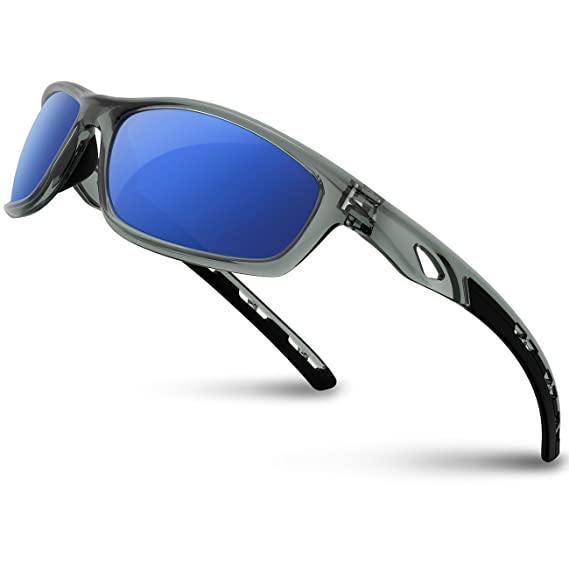 RIBVOS Polarized Sports sunglasses are the best choice for customers who deeply care about their looks. They may be stylish, but they do not compromise on quality.
These sporty sunglasses were created specifically with the requirements of athletes and fitness lovers in mind, making them a comfortable option for all sorts of sporting endeavors. They are very cheap and come in 19 different colors!
These athletic sunglasses provide dependable eye protection against UV, UB, wind, insects, and dust, whether you're running, skiing, snowboarding, cycling, hiking, playing tennis, fishing, golfing, or operating a motorcycle.
The wraparound shape of these anti-reflective sunglasses ensures that they fit securely and pleasantly around the face and guarantees that they are worn at all times.
This pair of sporty eyeglasses is very strong and expertly crafted, with an unbreakable frame composed of flexible TR90 material that can bend under pressure without breaking.
10. BNUS Sunglasses for Men & Women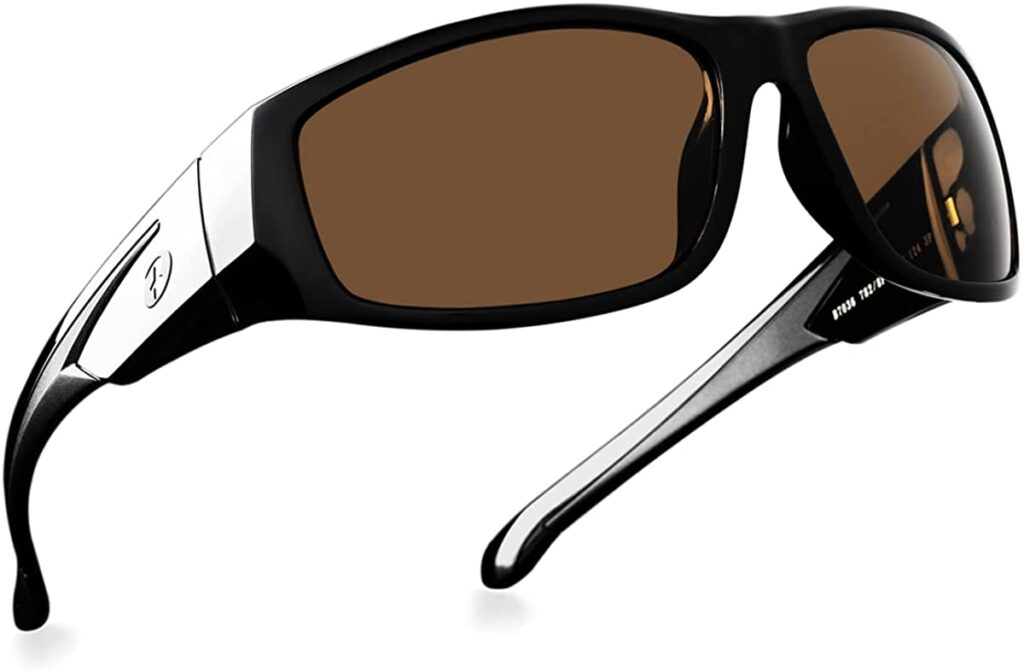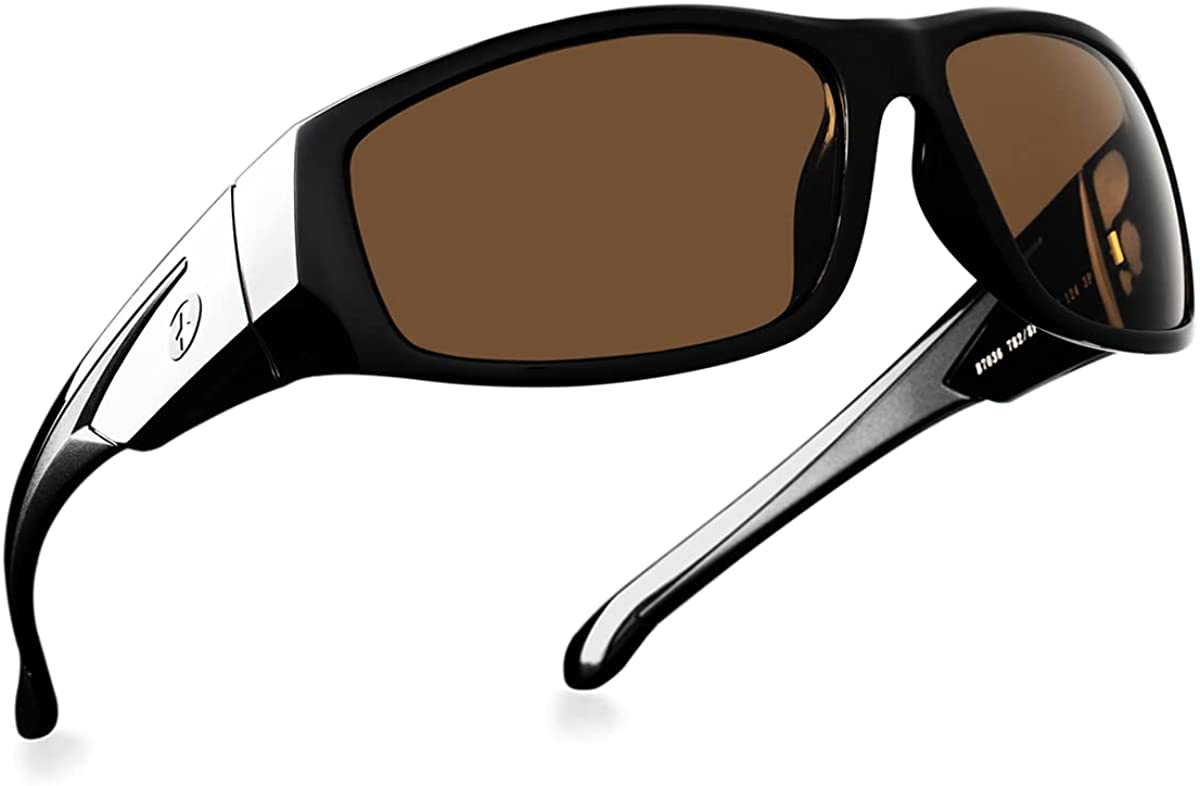 Corning glass lenses are used in the B.N.U.S. Polarized Sunglasses for Men and Women for the best possible eye protection.
They effectively lessen the glare you encounter while traveling into the sunset or gazing out over the ocean as you power a speedboat since they absorb 85% of natural light.
Water droplets are actually kept rounder by the double-sized nano-coating, which makes it simpler for them to roll off the surface immediately rather than flattening and spreading out. Some of the hardest things to clean up are water drops.
These lenses provide 100% UV protection, which considerably lessens eye strain. They are also resistant to scratches.
These Italian frames are built of co-injected TR-90 frame material, which is incredibly strong and flexible.
Moreover, they are well under the budget and are very stylish considering they are fishing sunglasses. They come in eleven different shades to choose from.
Which Brands Make The Best Fishing Sunglasses Under $100?
DUCO
High-grade raw materials are used in the construction of DUCO polarised lenses in Japan, resulting in a lens with great optical quality that is also incredibly light, robust, and scratch-resistant.
All of the lenses in DUCO sunglasses undergo a two-fold decentering test to guarantee the greatest levels of clarity and the absence of optical distortion.
Costa
The unique 580 lens technology from Costa Sunglasses takes it a step further by enhancing reds, blues, and greens while filtering out just the right amount of glaring blue light and harsh yellow light.
In essence, Costa 580 lens technology lets the good light in while keeping the bad light out.
KastKing
They provide very affordable polarized sunglasses suitable for an active lifestyle. The frames of KastKing sport sunglasses are designed to last years of intensive usage; they are incredibly light and flexible, resistant to heat and UV radiation, and have exceptional memory and form retention.
Why are sunglasses important for fishing?
Fishing requires you to stay out of the sun and saltwater for long periods. It can cause a huge strain on your eyes, and there is a very considerable risk of eye damage due to harsh sunlight. Hence, you need to protect your eyes with sunglasses.
You should not use any old pair of sunglasses; you should wear fishing-specific eyewear, to be specific, polarized fishing sunglasses.
Fishing sunglasses with polarisation can provide the best eye protection. Polarized fishing sunglasses help shield your eyes from the sun's UV rays, which can cause severe eye damage.
What are the benefits of polarized sunglasses?
Polarized sunglasses have numerous benefits. To reduce the quantity of reflected light that reaches the eye, sunglasses lenses can be made with an almost undetectable polarizing filter.
They protect your eyes from harmful ultraviolet rays and winds and give you a steadier vision.
In addition to reducing glare, polarized glasses improve visual clarity and comfort by sharpening and clarifying pictures.
This means the water will appear clearer to you and you will be able to fish without any difficulties!
Frequently Asked Questions
What Colour Sunglass Lens is Best for Fishing?
The blue-lens polarised fishing sunglasses are excellent because they reduce eye strain and facilitate fish spotting. To put it another way, blue polarised lenses are ideal for bright, full-sun conditions offshore and on the open ocean. Also,  copper (brown or amber) lenses are ideal for sight-fishing.
Are Polarized Sunglasses Really the Best for Your Eyes?
In terms of protection, polarized sunglasses are the best for your eyes. They protect you from harmful ultraviolet rays and give you immense protection from glare. If you are a fan of outdoor activities, we recommend getting yourself a pair of polarized sunglasses. 
Conclusion:
Polarized sunglasses are not a luxury but a necessity if you are exposed to prolonged sunlight. For people who like fishing or fish by profession, we recommend getting yourself a pair of polarized sunglasses to protect your eyes from the harmful rays.
We believe that by now you must have found your ideal pair of polarized fishing sunglasses. We have tried to intricately describe all the important features of every pair of sunglasses we have reviewed.
For your convenience, we have also mentioned the pros and cons that will help you select your sunglasses efficiently! So that is all for this article. See you next time.