With fishing as one of our favorite pastimes, we'd want to experience it only at its finest! Just you and your equipment enjoying nature at its best!
​The wilderness is always your best friend. It's the man-made gear that you bring with you that might betray you – settling for less is not an option, and you'll risk losing that all-important motivation to enjoy if your equipment won't work for you! Among the others, the kind of fishing line you bring with you will eventually make or break you.
Do not forget always to equip yourself with quality fishing gear. Check our guide to help you with grabbing one of the most important parts of your fishing journey – the best-braided fishing line!
Do you know just why the braided fishing line is called that way and why it's so popular among all the other lines used for angling?
​Are you a new angler and want to start out great by getting the best-braided fishing line possible? Maybe you're a veteran looking for quality fishing gear in the market but don't know where to find one. Perhaps you're fed up with your old fishing line and are aching to get a new and better one.
​Do you want to know which braided fishing lines are the best sellers and which qualities make them that way? Look no further and read on to find out the answers to these questions!
Why Does The Fishing Line Matter?
The fishing line might arguably be the most important and essential part of your fishing arsenal. This is what connects that hook for that vital catch to your rod! With a mediocre line, you'll risk breakage, and when you'd think you finally landed a big one – a snap or break is all it takes to ruin that exhilarating experience.
​No matter how good you are at fishing, if your tools don't work in your favor's, that supposed wonderful fishing trip might all go down the drain and leave you feeling unsatisfied!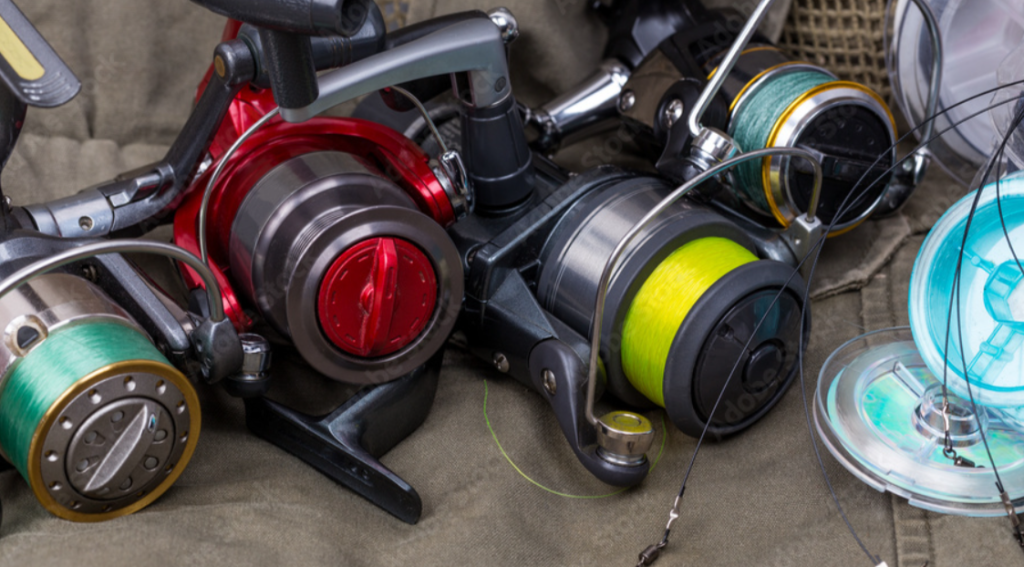 ​Unlike ordinary lines, a great fishing line satisfies a good number of parameters for it to be effectively called "usable" when fishing. It is the "cord" a fisherman uses to attach his rod to the hook and cast it into the water to cover a distance to where fish usually reside. A method by which a line, hook, and rod are used to catch fish is called "Angling."
The Creation Of The Braided Fishing Line
Way back in the early years of fishing, back in 1667, catgut was used as a fishing line. At around 1724, they further advanced their lines and used silk. (The World Book Encyclopedia Volume 7. Field Enterprises Educational Corp. 1968.) These lines were not nearly as durable and effective compared to their modern counterparts.
More modern lines, among others, made use of monofilament, nylon, fluorocarbons and the like. Monofilament, a single-strand line, is the most common and widely used. This was quite a favorable line because of it can "stretch" which before was considered helpful for some fishers to avoid breaks.
​Nowadays, the most preferable lines are those with fewer to zero stretches for accuracy.
​With new ways of creating better lines, it was soon discovered that a combination of many materials resulted in quite a significant increase in effectiveness.
​Speciality fishing lines were also made for specific kinds of fishing, such as the Stainless steel lines for larger fish with strong jaws and teeth, which eventually led to the creation of Titanium-nickel lines that provided a stronger and more resilient line for the same purpose.
​Finally, the introduction to the Braided fishing line, a line that is made of combined filament and is thermally fused together, has wowed many due to its high resistance, excellent durability, less stretch, and amazing flexibility. By combining every efficient material together and fusing it using top-of-the-line technology, the result was a perfect line with all the needed qualities! Now, what are these qualities, you ask? Read on!
The Qualities Of The Best Fishing Line
You can't have a successful trip without utilizing the right tools at the right moment. Having quality parts and materials will always reward the determined fisherman.
Before going a bit more in-depth with braided fishing lines, a quick overview of what the best fishing line needs to have is:
Strength – This includes the strength to keep the hook in place (Knot strength) and for the line itself to resist breaking (Break strength).
Durability and Resistance – Prolonged use of a line is always possible if it's resilient. You might save money buying a highly durable line rather than buying a line that you'd have to replace every after a few uses.
Weight – This affects how smooth and how sensitive the cast is.
Color and Visibility – Fish won't bite if they see it coming! Even with their tiny brains, they're smarter than you think!
Stretch – The ability to be able to stretch can be both an advantage and a disadvantage. When a line is able to grow longer when met with resistance, it "stretches"; control and sensitivity are compromised but it allows the line to resist breaking.
What Is Braided Fishing Line
The braided fishing line is a beloved and desired line among all others for its strength, durability, power, and look.
Well respected by the best anglers, "Small but terrible" a braided fishing line boasts a lightweight and compact design coupled surprisingly with great strength, control, and all with zero stretches. A quick review of our checklist on the best qualities of a fishing line, and you'll see everything here.
Top 6 Best Braided Fishing Lines Of 2023
If you're looking for the best-braided fishing line out there, you might want to consider reading some of our top 6 recommendations!
1. KAST KING's Super Power Braided line
This braided line appropriately named "Super Power" by KASTKING definitely lives up to its name! With amazing durability that lasts years without breaking, a strength that resists even the strongest of weights, and an astonishing length that improves not just your cast length but also your ability to manoeuvre the line when trolling or reeling in.

Its braid is made from ultra-high molecular weight polyethene braid fibred, a cutting-edge material that resists an incredible amount of weight while remaining as light as possible. It covers and avails a wide array of colors to choose from, including grey, green, multicolor, blue, white, pink and yellow.
Pros and Cons of KAST KING's Super Power Braided line
​Pros
It costs way less than your other expensive brands but offers almost the same, if not better, features.
It is astonishingly strong for its price and size- it resists up to 10-150lbs of weight, with little to no breaks during use, as claimed by its users.
Smooth and light – lightweight and easy to cast.
Highly durable – can last years without damage or breakage.
​Cons
It has no usual complaint from its users other than its color fading after years of prolonged use. However, this is also common to almost all braided fishing lines as wear and tear are inevitable.
2. Seaguar's Blue Label
It's not called "America's #1 leader" for nothing! With its strong double-structure fluorocarbon (DSF) material, it promotes the least amount of stretch possible with superior tensile and knot strength. It has incredible resistance and holds that "knot" harder than ever!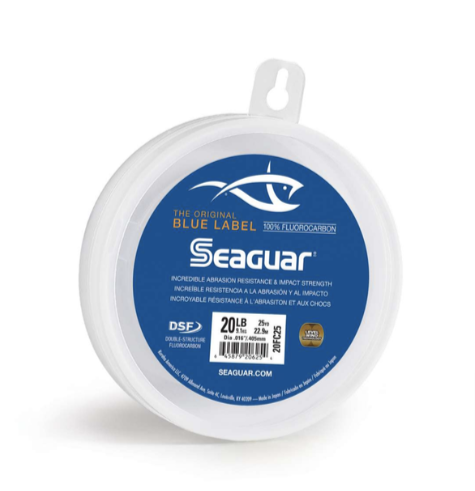 Seaguar is one of the popular lines that many anglers know and love. It has been around for a while and is constantly improving its products. They also cost less than other brands even though they bring almost the same quality and performance.
Pros and Cons of Seaguar's Blue Label
Pros
A Powerful line with excellent tensile and knot strength.
Very lightweight and is quite easy to cast. It also has great sensitivity and feels great in your hands.
Considerably great for saltwater fishing is durable and resistant to most external factors.
Smooth to look at and wonderfully compact
Cons
It's a bit thicker than other braided fishing lines as the diameter of the line was increased to create better strength and tension locks.
It has less length than other braided fishing lines, but that is nothing too significant to affect anything, only that your cast length may be shorter when using this.
3. Spectra's Power Pro
With the new Power Pro developed by Spectra, you will feel the power to fish like a professional angler! Specially designed for clear waters and developed to feel light as a feather, this braided fishing line will offer you a great chance to cast at any perfect angle and present your lure just the way you want it.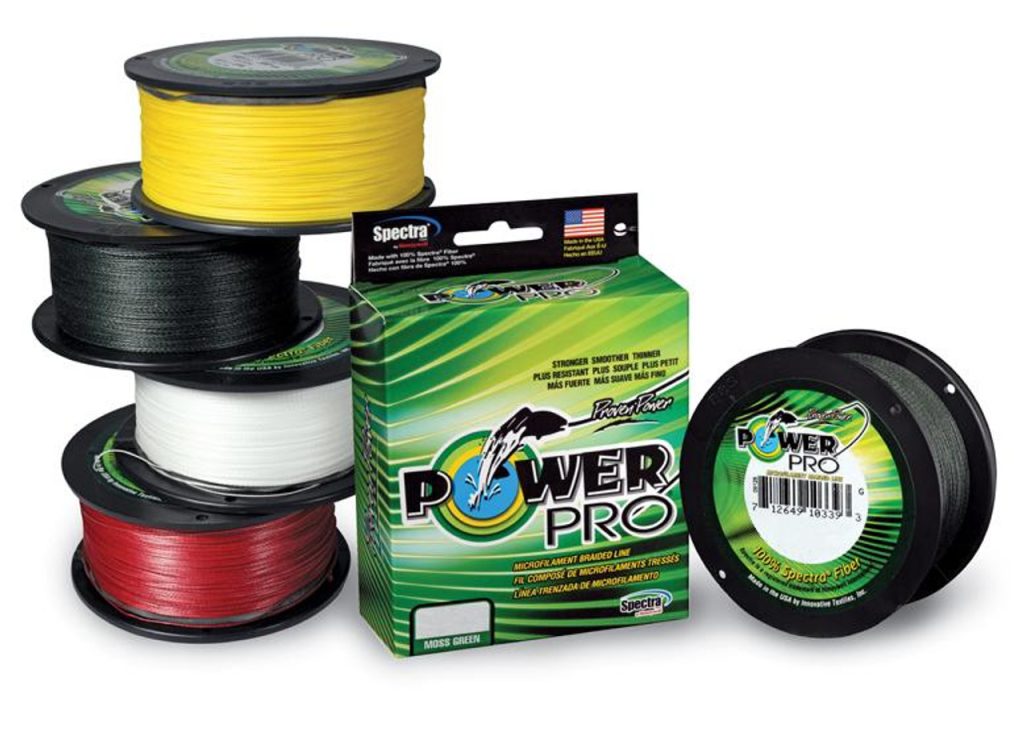 It has a three-end braid and near-zero stretches. It's treated with enhanced body technology, too, for that incredible round and sensitive feeling to the line.
Pros and cons of Spectra's Power Pro
Pros
This line has incredible knot strength; it can sustain prolonged use without having a Knot break or split.
It Spools nicely, is smooth to cast and has great sensitivity.
It has a low diameter offering lower visibility, which makes it nice for clear waters
It has great length and less tension
Cons
This braided fishing line may be a bit more expensive than other braided lines, but it still makes up for its quality features.
Break strength may vary and isn't as strong as other specific lines, which may stem from its adjustment in its low diameter to facilitate lower visibility and better control.
4. Berkley's Fireline Crystal
Keep the fire that fuels your love for fishing burning with Berkley's Fireline Crystal Braided fishing line! The astonishing diameter offers low visibility, and it's three times as strong and as durable as monofilament.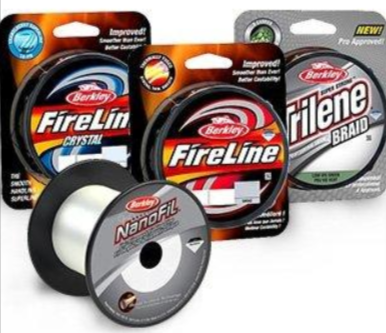 Weight tested to resist even the heaviest of tension and has ultimate sensitivity to add to a smoother finish for casting, trolling, and reeling in. It is available in a smoke grey color and has a considerable length.
Pros and cons of Berkley's Fireline Crystal
Pros
Great strength considering its diameter and length
Low visibility due to its small diameter offers great chances to catch on both salt and freshwater
Very handy and lightweight, easy to handle and carry
Cool to cast and even cooler to move around, great sensitivity
Cons
It is a bit stiffer compared to other braided lines, where overexposure to harsh elements and having it bear too much weight or get it snagged will cause in breaks and splits.
It will discolor after prolonged use, which is common to almost all kinds of braided fishing lines.
5. Stealth Camo Braid's Spider Wire
The fish certainly won't see this coming. With Stealth Camo Braid's Spider Wire, catching fish will be like grabbing them by the gills when they least expect it! New and Improved strength and durability added to an already powerful and break-resistant braided line, with a clearer spool that is smaller and offers less visibility.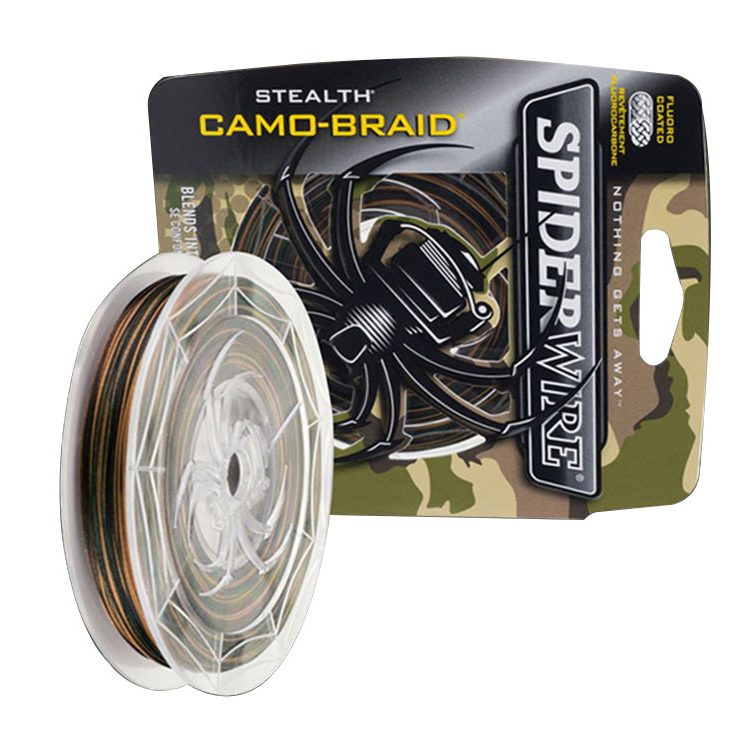 Includes unique color lock features that keep the line's color intact even after prolonged use and directly "camouflages" the line with its moss green color for low-visibility underwater fishing and yellow for high visibility above the water. It has no-stretch properties and incredible sensitivity and control.
Pros and Cons of Stealth Camo Braid's Spider Wire
Pros
improved strength up to 30% more!
Its fluorocarbon component makes it very nearly invisible in the water
Great lightweight and compact design that makes it one of the easiest lines to cast
Made from Dyneema PE Microfiber and Fluor polymer- Treated microfibers.
Its unique stealth scheme is catered to provide light and stealthy fish catching, ensuring that fish won't see the low visibility line when underwater.
Cons
Its design for light and stealthy purposes compromises its strength, and though it can resist a great deal of weight, it is usually less strong than other braided fishing lines that are wider in diameter or are heavier.
After prolonged use, the coloring in the line may wear off or stain your fingers or clothing.
6. Sufix 832
Although many excellent braids are available, Sufix 832 is routinely rated as the finest by anglers worldwide across all specialties. It ranks among the best high-strand braids for handling, casting distance, consistency, and durability. One of the most excellent braided lines for surf fishing is Sufix 832, which is particularly effective for saltwater fishing.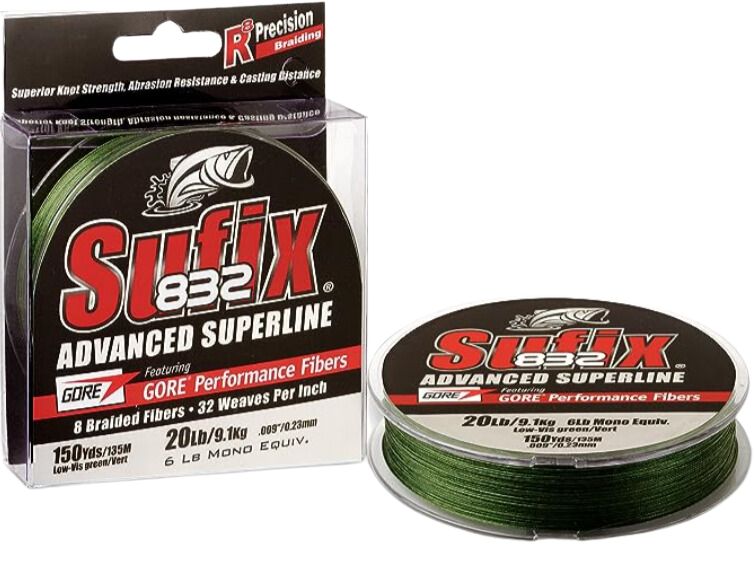 Pros and Cons of Sufix 832
Pros
Good quality and excellent consistency of build
It is one of the best casting braided lines with good smooth handling.
It is durable and has a small diameter braid, lasting for years in regular use.
Cons
Sufix 832, and 8 strand braid, is not as strong as other braids
Related Reads:
Conclusion- Best Braided Fishing Line
Out of all the five best brands, we'd have to crown KASTKING's Super Power Braided line as our winner, what with its incredible quality and features – Unbreakable strength, durability, incredibly lightweight and zero stretches! All the qualities of a perfect braided fishing line at an incredibly low price too!
​While it may not be the cheapest, it certainly is worth the money. Compared to the others, it has the least amount of cons with the most amount of pros! It even covers a bit of each other product's best features! It's the complete mix of high-quality value at an affordable rate. That's why I recommend it immensely!
Do you have something you want to say or react to? Feel free to put your suggestions and remarks in the comment section! We welcome all enthusiastic men and women seeking that great fishing experience!
FAQs
What is the most invisible braided line?
Companies that manufacture braided lines promote lines made out of fluorocarbon as the most transparent ones available in the market.

What is the strongest braid?
As Per the Research Palomar Knot Is considered the strongest Braid. The Palomar knot is frequently considered as the ideal terminal knot to use with braided line since it causes the line to double over when it is threaded through the eye of the hook.

How many years is a braided line good for?
Braided line, in contrast to monofilament, remains on a reel for many years without losing any performance.