Live Bait Is Always A Plus!
There's a better way to seduce all that fish to bite, and it thankfully doesn't involve anything expensive! If you know how to bait a minnow, your chances of catching the big ones will skyrocket!
I've always had an interest in lures and baits. From the most common and clichéd live worms to shiny weighted lures, to flies and others – yet there's always that great vibe to using live minnows to me! I almost always get a bite in just a few minutes of using them, and I hope for you to experience the same!
This article's going to educate you on how to bait a minnow step by step, concisely and easily! Knowing how and when to use fishing knots and rigs with specific lures is a healthy addition to your fishing prowess! Make sure you also read the additional links and see the videos – they're a great help as well!
Simple But Effective Ways How To Bait A Minnow
What You Will Need To Prepare
Aside from your regular fishing gear and tackle, you will need two specific things:
1. Live Minnows (Includes: How To Make A Diy Minnow Trap)
2. Hooks
1. Live Minnows (Includes: How To Make A Diy Minnow Trap !)
Live minnows are the favourite food of both saltwater and some freshwater fish such as Bass, Carp, and others. As opposed to artificial lures, using them provides a more natural feel, and the movement eventually makes the fish drop their guard faster and bite more.
It also takes less effort to move it around as it swims itself when it hits the water. It sells relatively cheap, and you can even catch your own (which is what my dad used to do.)
Most fishing stores and bait shops have these around. Just bring your container, and a bit of cash, and you're good to go and get a good number of live minnow bait. We'll teach you how to keep them nice and kick in the next segment.
If you don't have any shops nearby, are fishing on a tight budget, or want a sense of accomplishment, then catching your bait is for you. You can use a net with some fish food or use the better option' construct your minnow trap with just a few recycled materials!
2. Hooks
You will need to adjust your hook for this; although you may and can use any hook you like, the thin J hook is my recommendation and favourite when using live bait.
How To Bait A Minnow In 3 Ways
There are three different ways anglers hook live minnows to get the maximum effect when it's on the water. Each has its advantages and disadvantages, so we'll cover that in our tutorial as well. So let's get to baiting number one:
1. The "Head" Hook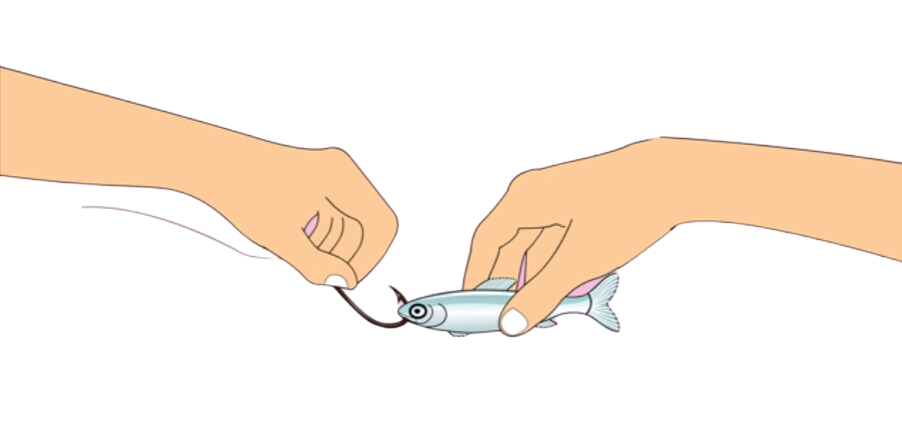 With your hook, hook the lower fish lip first through its middle.
Then hook through the upper lip through the middle.
Close the lips together and make sure the hook is in place.
Test the minnow out in the water if it moves naturally before casting it for the catch.
Advantages of the Head hook
– When fish bite down on lures and prey, they go "head first", literally both with their heads first, and target the heads of the bait. This manner of rigging makes it easier to hook onto biting fish and is especially effective for stronger fish.
​What are the disadvantages? – When you rig a live minnow by its head, or in this case, its lips, it closes its mouth and also affects its gills. That is the reason why your minnow will tend to die faster using this method.
2. The "body" hook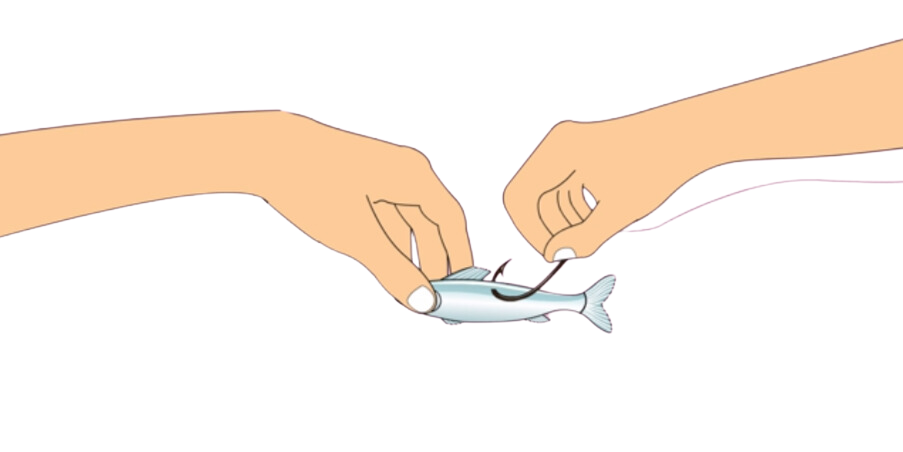 Check the dorsal fin (or the fin located at the upper part of the fish's body) and estimate where the fish's bone is located
Carefully attach your hook to the fish's body just behind the dorsal fin.
Check if the minnow still moves about fine, and make sure the hook is in place.
Test the minnow out in the water if it moves naturally before casting it for the catch.
Advantages of the Body Hook
– When placed on the fish's body, a more natural swim can be seen, and the minnow will stay alive longer than when you used the head hook.
What are the disadvantages? – You will need to use this method carefully, as piercing through the body usually results in a paralyzed minnow, which moves just like a dead fish. Make sure that when you rig it, you won't break a lot of bones and test out whether the minnow still moves naturally.
3. The "tail" Hook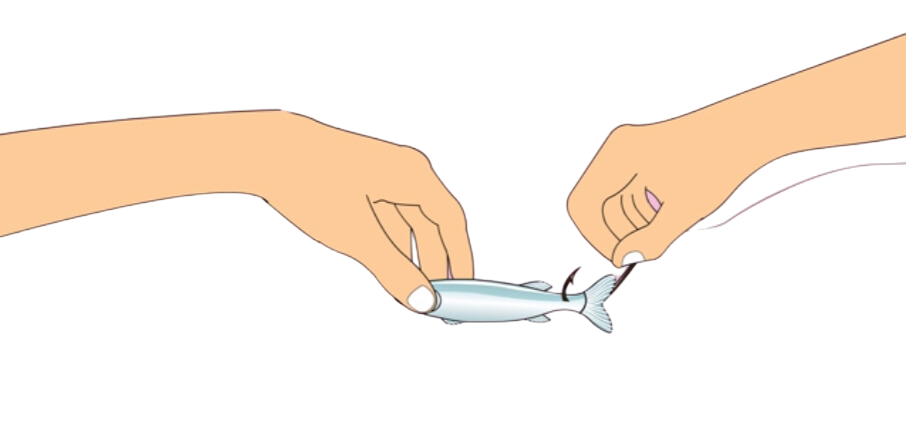 Make sure the minnow's tail is nice and strong, and pick a place closer to the end as possible.
Place your hook through just the end of its tail, ensuring it pierces through meat and not just the fin.
Make sure the tail still moves about, and check if the hook is in place.
Test the minnow out in the water if it moves naturally before casting it for the catch.
Advantages of the Tail hook
– Because the weight is on its tail, the minnow moves and swims about more natural and looks "unhindered" compared to the other two types of rigging.
What are the disadvantages? – Fish can tend to "steal" the bait by snagging only the head of the minnow, where the hook will be unable to catch the bite. Although this happens less frequently, this poses a disadvantage as you can risk losing your bait and the catch.
Bonus – don't throw away dead bait!
Dead bait can be just as effective as live bait! Simply use the "head" method of hooking, or hook inside the mouth and through the gills, break a few bones in the tail part, and you can have a dead minnow that swims just like a live one when you're reeling it in!
Thundermist Lures has a great video to help you with seeing how to rig a variety of styles using live minnows:
Key Points
Combining these with a perfect Downrigger (something we should also know how to use) to get to those bottom feeders will be a wonderful addition to your skills! Using weight to get your live minnows lower and near the ground adds to their visibility and range for those hard-to-reach areas!
​Your fishing gear and tackle should also match your purpose. When using live bait, your equipment can either add or subtract the effectiveness depending on the kind of fish you are targeting. The use of low visibility lines and thinner hooks is mostly recommended, while your rod should remain strong and flexible.
​Check ahead and around for the environment you'll be fishing in; if it rains heavily, the waters are going to be murky – you can choose to fish another day, but fish are usually overexcited after a storm, should you decide to exploit this, it helps if you have a noise-making rig with live bait.
Conclusion- How To Bait A Minnow
And there you have it! Those are the quick and easy ways to rig your live bait! Do you also use live minnows, and how good are they for you. Learning angling techniques such as this article's how to bait a minnow may seem simple. But without having someone to help you out, it's hard or deal to hurdle through!
That is the reason why I use the power of the internet to help out each person who wishes to learn more about their love for fishing! As always, never forget to fish with a smile! Like and share this article if you want to help our fellow curious and new anglers out there! Was this article helpful? Don't hesitate and leave your comments and inquiries below!
FAQ
Where Can I Find Live Minnows?
You have two options to find live minnows, either go to a bait shop or catch them yourself.

How can I hook live bait without killing it?
There are two ways to hook live bait without killing-
The first way is to hook a minnow through the bottom and upper lip
The second way is to insert the hook on the minnow's back just behind the dorsal fin.
Can you use tap water to keep minnows alive?
No you cannot use tap water to keep minnows alive, instead, fill your container with water from a lake before you buy minnows and water should be cold as fish need cool temperature to be alive.

Related Reads