Redfish, also known as red drum, is a popular saltwater game fish found along the Atlantic of the United States. They are known for their hard fighting and delicious taste, making them a favorite among anglers.
To catch redfish, you need to have the right equipment and techniques.
This guide will cover everything you need to know about how to catch redfish, when, and steps to catch redfish. The article will help you learn about redfish fishing and make you an expert.
How To Catch Redfish?
1. How to catch redfish?
2. When to catch Redfish
3. Steps To Catch Redfish
1. How to catch redfish?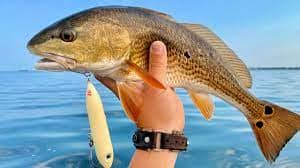 Redfish, also known as the red drum or red bass in some parts, is one of the most popular fish in fishing activity. Lots of anglers don't know how to catch redfish. These tips and tricks will help you find the redfish and make it relatively easier for you to catch.
Redfish is a shallow-water fish and lives along the gulf coast and eastern seaboard of the US.
It tends to school more compared to large fish, and once you catch one, you are sure to catch another. During winters, it migrates offshore to deep water, while during summers, it can be found inshore.
2. When To Catch Redfish
Redfish are mainly the coastal type of fish species that spend most of their time in saltwater lagoons, bays, and estuaries of the coast. However, they are also commonly found offshore and on beaches in some specific locations.
The locality of species depends on the time and season.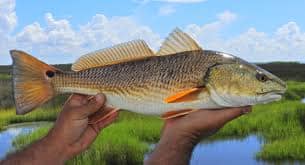 Most commonly, fishes spend summer, spring, and winter within estuaries and in some parts offshore.
There is a redfish life cycle within the lagoon system and deep channels.
One of the best places to start finding redfish is directly in the mullet schools, and whenever you see mullets jumping, then they are kicking up food that redfish normally have to root around.
It helps you find many red fishes as the redfish end to be in mullet schools.
3. Steps To Catch Redfish
Mainly two levels of fishing for redfish are possible. Fishing for redfish requires a heavy tackle because of its heavier size. You need to choose a spinning tackle for redfish or bait casting tackle.
Spinning reels are relatively easier to use and have options for deep water jigs, live baiting, and top water lures.
You can choose bait-casting tackle with the desired setup whenever extra leverage is required for pulling fish out.
It gives more power while reeling the big fish and an accurate cast compared to other ones. Apart from this, you can choose all kinds of casting tackle, which is helpful for redfish of all sizes, light to medium saltwater, and surf nods.
One of the topmost choices is a fly rod for catching shallow-water redfish. You can use a heavy road with around 8-10 pounds of weight.
An important tip is not to drag your reel after you have hooked the fish. You need to use a good rod and pay attention.
Have patience: Wait for the fish to bite and get the fish. It is common for the fish to take a few minutes and get a baited hook. Watch the bobber and check if he is jumping or shaking. It may be a fish nibbling your bait.
After you have caught the fish, handle it with care as most fishes you catch from shore have sharp fish, and some of them have spiny fins. Try to handle it gently but firmly and use needle-nose pliers to remove the hook.
Once you have got hold of the fish, click a picture. Then, in the end, you must release the fish where you are sure it can swim.
Related Reads
Conclusion:
If you are looking to understand how to catch redfish, then you must understand the procedure and get everything sorted before planning your catch.
You need to have proper bait like mullet, crabs, or pinfish and use a 20 ls line minimum, reel, good rod, and pay attention. After getting your gear set, you must be aware of which are the areas where you can find redfish, like offshores or inshore.
Getting good quality bait is extremely important for catching a redfish. Once you catch the fish, be quick to take a picture.