Because of the number choices available now in the market, deciding what the best spinning reel under $100 is becomes a little paralyzing. As an angler, price and performance are always my top considerations when purchasing any fishing tackles.
Luckily, many fishing reels have both of these qualities, and you are just a few scrolls away from learning some of them.
In this article, I will introduce to the Best Spinning Reel Under 100 that I have come across, and I have proven to be cost-efficient yet effective in casting. My wish is to give you more confidence while fishing without letting you spend more because fishing does not have to be a very expensive activity after all.
The Best Spinning Reel Under 100 : Factors To Consider
Factors You Need To Consider When Buying the Spinning Reel Under 100
Spool Size
Weight
Drag System
Durability
Anti-Reverse Handles
Gear Ratio
Bearings
Spinning Reels Buying Factor ($100)
Different manufacturers produce various models of spinning reels that are affordable for anglers. Our goal is not to look for a perfect product, but to find one which meets your fishing needs because the best spinning reel for you may be different from other anglers. Before purchasing, let me help you in deciding which brand to buy by discussing a few important points that you have to take into account.
1. Spool Size
Many of the lines available in the market come in various sizes. The line capacity of the spinning reel also increases as the size goes up. Most manufacturers design their reels in a way that it can both hold monofilament and braided line.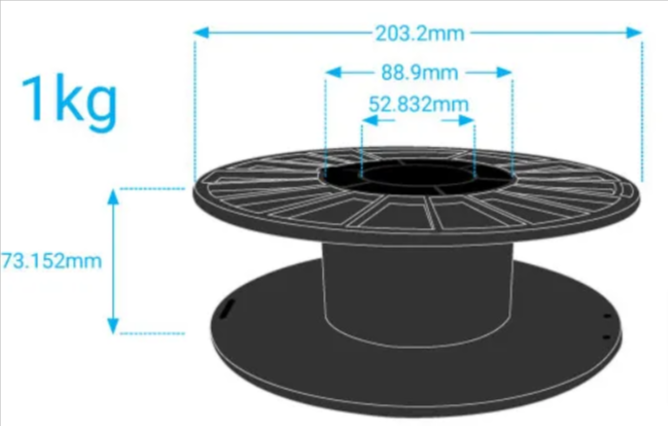 Having a small-sized spool does not have a considerable effect on fishing performance according to some anglers, but learning how to spool a spinning reel is also an edge especially if you are a regular fish catcher.
2. Weight
The weight of the reel depends on its materials which can be aluminum, carbon, magnesium, or plastic. Though lightweight reels are ideal, they do not guarantee efficiency. What most anglers prefer are reels that have an average weight and are robust enough to fight several extreme fishing conditions.
3. Drag System
This component is considered one of the most important parts of a spinning reel. What you want is a reel that has a robust adjustable drag system that can handle pressure.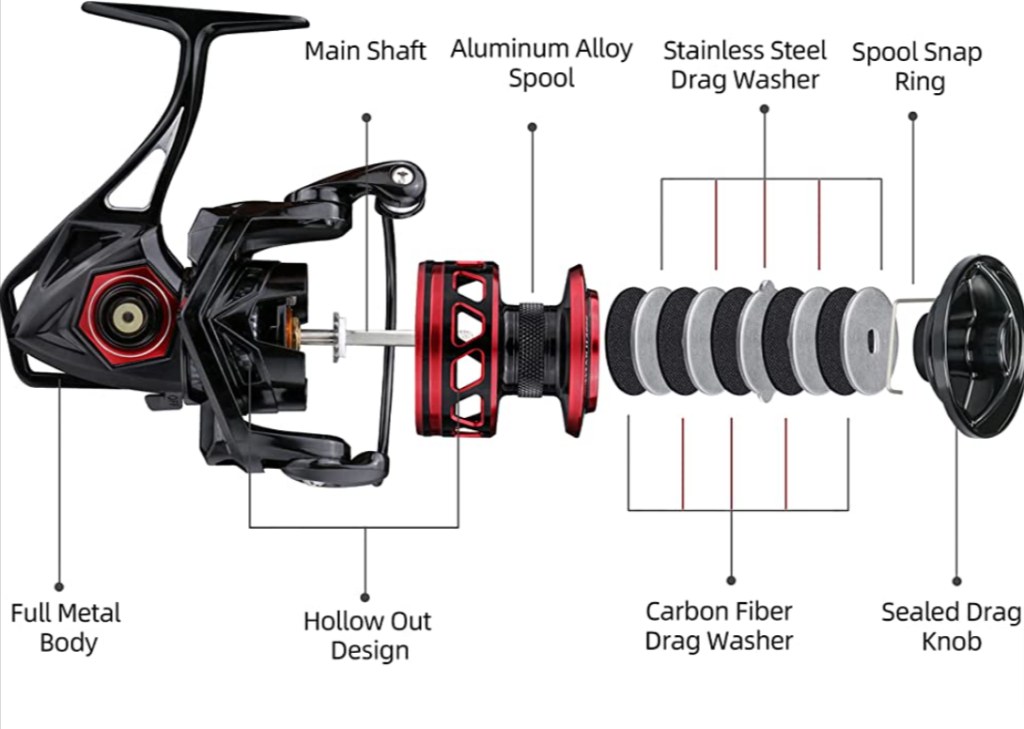 4. Durability
The easiest way to have an idea of whether a spinning reel is sturdy enough is to check its construction. Many fishing reel users claim that the most durable reels are combinations of alloys, metals, and plastics.
5. Anti-Reverse Handles
When buying spinning reels, check the handles if they do not have backward motion. To test the anti-reverse characteristic of a fishing reel, move the handle forward then reverse it. The handle should not back up.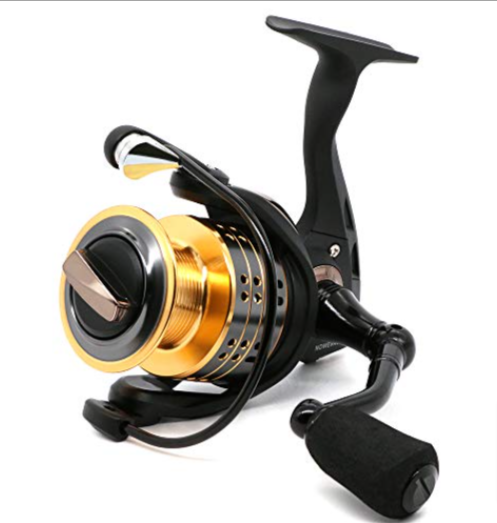 6. Gear Ratio
This feature determines the speed of the retrieves. Some reels have a gear ratio of 4:1 which means that the bail goes around four times in one rotation of your handle. Many anglers consider this speed slow. A quick and ideal reel has a gear ratio of at least between 5:1-6:1.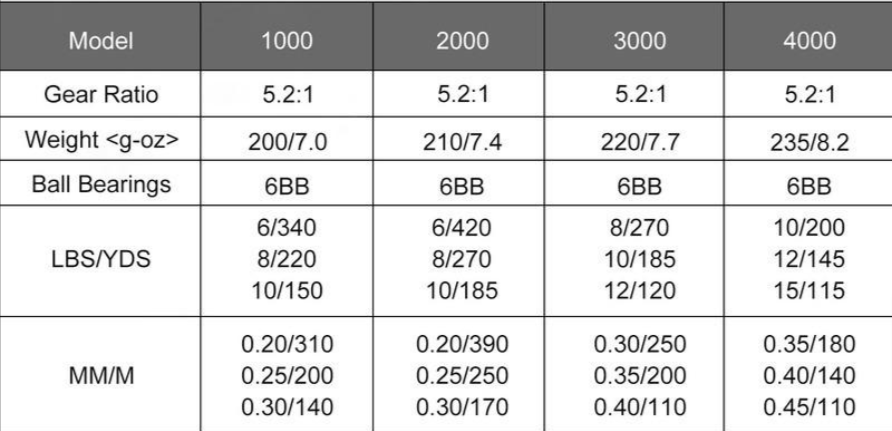 7. Bearings
This component of a fishing reel determines the smoothness of the reel's performance. While many experts suggest that you buy reels that have more bearings, you can still count on anything that has at least five of these parts.
The Best Spinning Reel Under 100: Affordable in Budget
1. Okuma Trio High-Speed Spinning Reel
2. Sougayilang Spinning Reels with Full Metal Body
3. KastKing Sharky II Spinning Reel
4. Pisfun Spinning Fishing Reel
5. Shimano Sienna Spinning Reel
The Best Spinning Reel Under 100: Updated List
Here is the list of The Best Spinning Reel Under 100
1. Okuma Trio High-Speed Spinning Reel
The name of this fishing tackle speaks for itself as it can boast a lot of outstanding characteristics. This feature includes its blazing-fast 6.2:1 gear ratio. Its drag system performs well, and the handles are very comfortable to use according to many anglers. It comes with two different colors namely black and orange.
​The spool of Okuma Trio has a unique multi-piece design which is critical in maximizing the reel's drag pressure while also giving the angler a smooth cast. The nine stainless steel ball bearings provide a stable and smooth operation while ensuring that the return is fast.
​It also has an anti-reverse feature that minimizes resistance, an important thing you have to consider when battling with huge fish.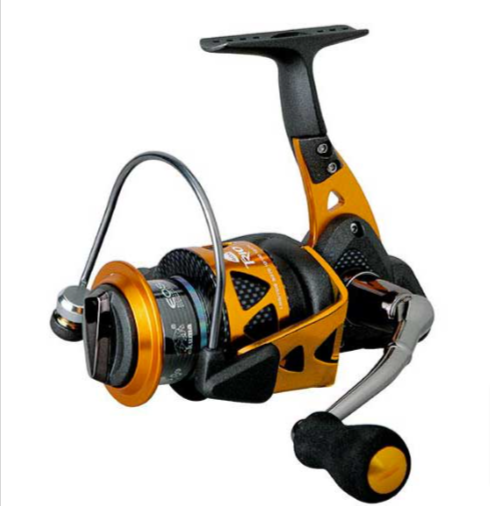 ​This fishing tackle is also famous because of its crossover construction. It uses a combination of aluminum which is essential for providing exceptional strength and lightweight graphite material which is necessary for the angler's better control. Moreover, the stamped aluminum is both rust and corrosion-resistant.
​There are three different models of Okuma Trio High-Speed Spinning Rel which are the 30s, 40, and 55s. The 30s weighs 10.4 oz. The 40s have a weight of 10.8 oz. 55s weighs 14.7 oz.
​There are only minimal things that Okuma manufacturers have to improve for this reel which does not have a considerable effect on its overall performance.
​One of these downsides is the spool which can be widened to accommodate more lines. The reel does not also come with an extra spool which you only need when the current spool is lost or broken.
Pros and Cons of Okuma Trio High-Speed Spinning Reel
Pros
Has an excellent drag system
Offers an anti-reverse feature
Provides smooth operation
Durable body
Stamped aluminum can resist corrosion and rust
Has nine quality ball bearings
Has 6:2:1 gear ratio
Comes in two different colors
Cons
Manufacturers can improve this model by increasing the spool size
The product does not come with an extra spool
2. Sougayilang Spinning Reels with Full Metal Body
This reel is another perfect pick for both salt and freshwater fishing adventure. It is one of Sougayilang's latest models of spinning fishing reels, and it is popular among anglers because of its 13+1 ball-bearing characteristics. This feature means that it gives an ultra-smooth performance.
This tackle is also plastic and high-quality aluminum, making it durable, lightweight, and corrosion-resistant. Some anglers use it for ocean fishing, and it works well.
Also, it is a good reel to use when you are trying to catch fish that are small to medium-sized including perch, trout, and crappies. It is compatible with almost any type of fishing rod, especially the telescopic rod. The gear ratio of 5.2:1 which is not bad for a very affordable reel.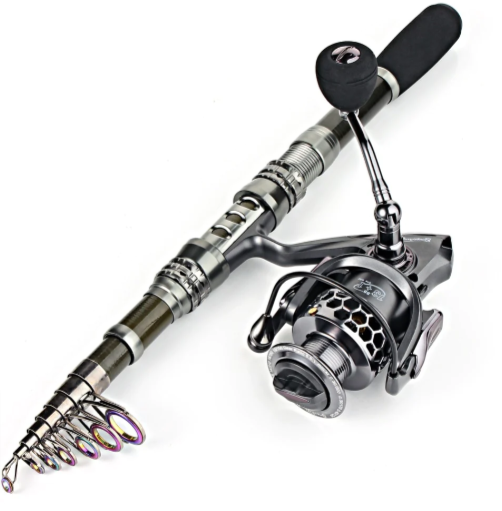 It has a great line lane oscillation system making it suitable for various positions such as ocean beach fishing, Lake, river, reservoir, ocean rock fishing, and much more.
Sougayilang Spinning Reels with the metal body come in four sizes, the largest of which weighs 16.23 ounces while the smallest weighs 11.57 ounces. It comes in two different colors namely black and red.
The screw of the handle provides the fishing reel a good grip while the metal handle itself is CNC machined and interchangeable, making it comfortable to use for both left and right-handed people. The maximum drag of this reel is 12 pounds.
One downside of this reel is that its lubricant splashes out when you turn it. Many users claim that the manufacturers use inferior quality grease for creating this fishing tackle. Because of its plastic construction, many also have impression that it is not that durable.
Pros and Cons of Sougayilang Spinning Reels with Full Metal Body
Pros
Suitable for freshwater and saltwater fishing
Offers ultra-smooth performance
Corrosion-resistant because of high-quality aluminum construction
Lightweight
Provides a good line lane oscillation system
Comfortable-to-use handle
Cons
Lubricant splashes out
It May not appear durable because of plastic components
3. KastKing Sharky II Spinning Reel
This fishing tackle is an improved version of the first Kastking Sharky. It has precision mesh brass gears which its manufacturer claims to be 30% stronger than the original model.
Its Carbon Fiber drag system also provides high resistance. It comes in six different sizes namely 1500,2000,3000,4000,5000 and 6000, the largest of which Sharky II 6000 offers a maximum of 41.5 pounds of drag.
Kastking Sharky II has 10+1 High-Quality Shielded Stainless Steel Ball Bearings which are also corrosion-resistant. The Aluminum spool is CNC machined, and it is 10% lighter than the original version. It has an instant stop anti-reverse and a stainless steel shaft.
This reel is unique because it has a power launch lip which is useful for casting a further distance. The manufacturers of Kastking Sharky II also ensure the waterproof characteristic of this reel which makes it stand out. Many fish catchers also recommend this product if you are kayak fishing.
Many anglers claim that submerging this fishing tackle for up to 3 minutes, will not affect the overall performance of the reel. This claim is true even when you are fishing in salt water.
One drawback of this reel is its lack of a bait running system (also called free spool) which is helpful in providing another drag system anglers can engage or disengage manually using a simple switch.
Some people who use it also claim that it produces a grinding noise after using it for a few times.
Pros and Cons For KastKing Sharky II Spinning Reel
Pros
Stronger and lighter than the original model
The aluminum spool is CNC machined
Features an anti-reverse
Has a power launch lip
Waterproof
Cons
The product does not have a bait running system
Creates grinding noise
4. Pisfun Spinning Fishing Reel
This reel is another smooth-performing tackle. It has a quick anti-reverse roller bearing and six ball bearings which are sealed giving the fishing reel quiet operation. The graphite frame and rotor of this reel are also sturdy. The aluminum spools which fit with the ultrasmooth oil-soaked felt washers are double anodized, and the reel itself is lightweight.
Most of the Pisfun's materials and components are corrosion resistant. It also features a multi-disk drag system. The Pisfun Spinning Fishing Reel series also gives you a variety of options because they come in different weights and line capacities. The 5:1 gear ratio makes it quicker to catch both small and large fish.
Also, another factor that makes this reel very durable is that its manufacturers coat it in a painted finish. The available sizes are 500s,1000s,2000s, 3000s,4000s,5000s, and 6000s. The lightest is 6.99 ounces, and the heaviest is 13.8 ounces.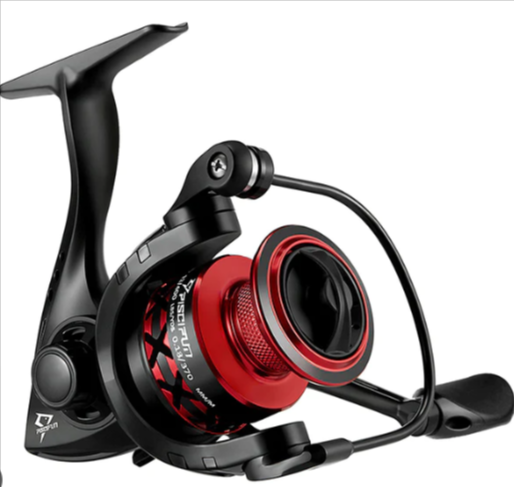 The price of Pisfun Spinning Fishing Reel is reasonable for its stunning features. However, some anglers may still want a smoother fishing experience by using reels that have more than six ball bearings.
Some users also claim that the bail is hard to close especially during the first retrieves. In case you encounter these problems, or if this product does not meet your needs, you can request a refund.
Pros and Cons of Pisfun Spinning Fishing Reel
Pros
Has quick anti-reverse
Consists of six ball bearings
Has robust construction
Corrosion-resistant
Has 5:1 gear ratio
Comes in different sizes
100% Refundable -if this product does not satisfy its buyers, customers shall be entitled to a refund.
Cons
Anglers may prefer reels that have more ball bearings
Bail is hard to close
5. Shimano Sienna Spinning Reel
The reel features high-end performance and characteristics despite its low price. It has a propulsion line management system which is useful for further casting. It has a power roller which tremendously lessens line twists from retrieving and casting.
Many anglers prefer to use this fishing tackle because of its M-compact XGT-7 material which makes the whole body of the fishing tackle more rigid and lighter. It also has a Super Stopper II instant anti-reverse which is effective for solid hooksets ensuring that there will be no back movement in the handle.
Shimano Sienna Spinning Reel comes in three various sizes. The smallest model weighs 7.9 ounces while the second and third heaviest are 9.5 ounces and 12.5 ounces respectively.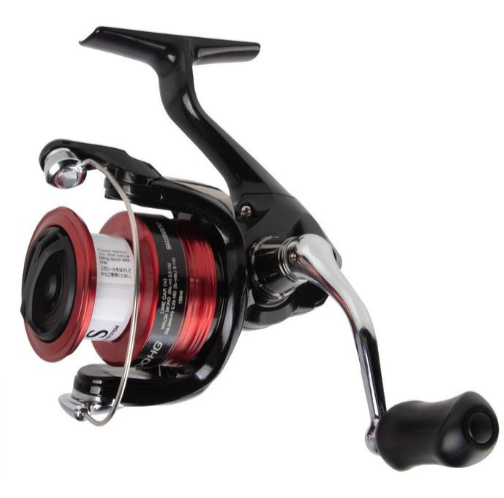 This tackle has a graphite frame, side plate, and rotor. Its aluminum spool is also cold-forged.
It has a gear ratio of 5.0:1 which is just r according to its users. It features one shielded stainless steel ball bearing with an additional one roller bearing.
While many anglers enjoy using this reel because of its low price, some claim that it has a little line capacity. Other users say that it is not suitable to use for sea fishing.
Pros
Lightweight
Features propulsion line management system
Produces fewer line twists
Has a gear ratio of 5.0:1
Cons
Minimal line capacity
Not fitted for sea fishing
Related Posts:
Conclusion: The Best Spinning Reel Under 100
All of the spinning reels we reviewed in this article are all working at their best. Even though you can acquire one of these spinning reels at a lower cost, they all provide high-quality performance that will surely satisfy your needs. When you purchase at least one of these spinning wheels, it is like you already have a high-cost spinning reel because of their exceptional quality and performance compared to other spinning reels.
However, from the five spinning reels that I discussed in this article, if I am going to choose only one spinning reel that would be the best for me and any anglers, I would rather choose Okuma Trio High-Speed Spinning Reel.
Why? It is one of the best spinning reels that you can acquire in the market at a lower cost, its outstanding qualities like its speed, durability, smooth operation, and great drag system are what compelled me to choose this product over the other ones.
FAQs: The Best Spinning Reel Under 100
What is the easiest spinning reel to use?
Among the three main casting reel types, spincast reels are the simplest to use and the easiest to learn how to use.

What is the most common spinning reel size?
For freshwater applications, the four most common sizes are sometimes indicated as 100, 200, 300, and 400, with 100 being the smallest. However, some models indicate the same reel sizes in others while others do not.
Does spinning reel size matter?
The smaller the reel you buy, the lighter the line you plan to use. The strongest and largest diameter of line that should be used on a spinning reel is a ten pound test line.