I'm sure you agree that catching fish is not the only challenging part of being a fisher but also finding the best spinning reel for your fishing rod.
Whether you are an amateur or professional fish catcher, choosing the spinning reel that suits your needs is paramount.
Since a spinning reel is one of the essential o parts of a fishing rod, you must find this type of fishing equipment that works just smoothly and perfectly for you so you can catch the fish that you've always wanted.
What you will witness in this blog are the several reasons why spinning reel is vital fishing equipment for every fisher, including the best fishing reels that you can avail in the market.
The Best Spinning Reel Of 2023 In The Market
Why Use Spinning Reels?
Factors in Looking For The Right Spinning Reel
Fishing Location
Size
Target Fish Species
Construction
Cost
Drag System
The Best Spinning Reels For Successful Fishing
1. KastKing Summer Spinning Reel
2. Pflueger President Spinning Reel
3. Okuma Ceymar Lightweight Spinning Reel
4. Penn Battle II Spinning Reel
5. Sougayilang Left/Right Collapsible Handle Spinning Fishing Reel
1. Why Use Spinning Reels?
Spinning reels and bait casters are two of the best devices people use in fishing. Choosing between the two is controversial because they both have advantages and disadvantages.
Spinning reels are continuously gaining popularity because of their versatility as compared to bait casters. Because of its easy-to-use mechanism, this is also best to use if you are beginning to fish. New models of spinning reels use more advanced technologies for easy catching.
This piece of equipment is the most common type of fishing equipment for anglers for a variety of reasons. First, it allows fishers to throw light lures farther because of the excellent control it gives. Second, whether you are left or right-handed, you can find this useful because its handles can be easily adjusted.
The drag system of these reels is adjustable as well when you are battling with the fish. If you are casting into the wind, this type of equipment is far way more efficient.
2. Factors In Looking For The Right Spinning Reel
Different models of fishing reels are emerging in the market, and it is very crucial to find which one is worth your money. These are just some of the factors that you can consider in choosing the one that suits your needs.
3. Fishing Location
You need to consider the fishing environment where you want to fish to understand which spinning reel is suitable. The size of the spinning reel becomes a key factor in knowing which type fits the fishing environment. Reels, which are pure metals, are also more conducive to fishing in Saltwater.
4. Size
Small to medium-sized spinning reel works best in streams, rivers, lakes, and ponds, while heavier ones are preferred in saltwater such as seas and oceans. Usually, the size of the small reels is from 1000 to 3500. Medium size spinning reel measures between 4000-5000. The large spinning reels are anything that has a size of 6000 and above.
5. Target Fish Species
The general rule is to match the size of your target fish species to the size of your spinning reel. The small-sized reels are for small fish (e.g., salmon, tilapia, catfish, and trout). Medium reels for the medium size fish (e.g., tailor, cod, and bonefish). Large-size reels for the large fish (e.g., tuna, large mackerel, and kingfish).
6. Construction
There are two key features that you have to consider: weight and durability. Choose a spinning reel that is light enough for your ease and comfort yet robust and durable enough to lift and fight against stubborn fish. The most durable reels are the reels that are pure metals.
The disadvantage, however, of most reels that have this feature is they are sometimes too heavy and therefore are difficult to lift and move.
Luckily, new reels are now available that make use of combinations of alloys, metals, and plastics, adding durability and strength to lightweight spinning reels without compromising its trapping ability.
7. Cost
Like other devices, what you are looking for in spinning reels are the ones that are not too expensive but have a quality that is satisfactory for fishing the type of fish that you are eyeing.
​It is better to consider the other factors mentioned here in deciding whether you will avail of the less expensive or, the cheaper one.
8. Drag System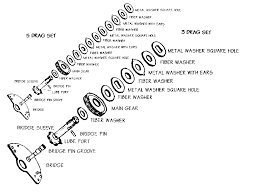 This part is the single most essential component of any fishing reel. With the use of advanced technologies, newly-improved reels are now available in the market. The smoothness of the fishing reel's performance also depends on this part of the fishing reel.
​The best spinning reel has very adjustable drag system but is also sturdy enough to handle the pressure.
The Best Spinning Reels For Successful Fishing
Here are some type of reels for successful fishing
1. KastKing Summer Spinning Reel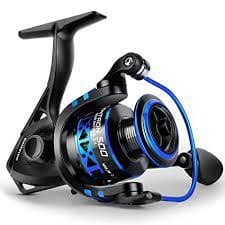 This type of fishing reel is known for its low price. Aside from this, this product has ultra-smooth performance because of its nine quality ball bearings plus an additional one instant stop one-way anti-reverse bearing.
The weight is also way light which adds comfort to anglers as it makes fishing more effortless. Besides, this reel feels so solid though its body is plastic. It has a high tensile power graphite body which is very resistant to corrosion and a sophisticated drag system designed for vigorous dragging.
The anodized aluminum spool is also robust enough to handle big fish; this can be a good pick regardless if you are fishing in fresh or saltwater.
The whole body of this reel is very sturdy, yet it is smoothly spinning.
One more interesting fact about KastKing is its advanced line management. This device consists of an aluminum spool which is CNC (Computer Numerical Control) machined. This spool has grooves which maintain lube; This maximizes the reel's performance, making it last longer.
Pros
Has a competitive price
Comprises of nine quality ball bearings
Lightweight
Durable construction
Has advanced line management
Cons
People who use ten ball bearings may need to adopt to this reel
Price looks very inexpensive.
KastKing Summer Spinning Reel is perfect for beginners because of its easy-to-use characteristics; its hand retrieve has a design that is suitable for both right or left-handed fishers, and its push button helps in collapsing the handle.
The only downside of this device is for those anglers who are used to a spinning reel that has ten ball spinning reels; they might find KastKing Summer less smooth. However, this can give a little to zero difference in performance.
2. Pflueger President Spinning Reel
The best characteristic of this reel is its lightweight; this is because of its well-designed spool which is anodized with aluminum.
Pflueger President Spinning Reel is also very resistant to corrosion because of its 10 Bearing system which utilizes stainless steel ball bearings and is very comfortable to use and grip because of its soft touch knob.
The graphite body of the reel also makes its base of operation solidly and firmly built; even so, the reel is still lightweight.
Pros
Lightweight
Can withstand corrosion
Has stainless steel ball bearings
Cons
More appropriate to use in freshwater
Can be less durable
Another quality feature of this reel is its instant anti-reverse one-way clutch bearing which is useful in preventing backlash.
Some issues include the reel's versatility. Though being lightweight makes anglers feel comfortable, it also makes the device more suitable to use in freshwater than in heavy duty saltwater angling.
It is best recommended to use for crappie and bass fishing. Compared to metal shafts, graphite shafts can also be less durable.
3. Okuma Ceymar Lightweight Spinning Reel
This device is another lightweight spinning reel, especially for freshwater anglers. It has eight bearings that will certainly give you a smooth performance. The frame and body of this equipment are graphite that is corrosion-resistant, and it has a rotor that is very light.
Okuma Ceymar Lightweight Spinning Reel also has a quick anti-reverse feature and a heavy duty, solid aluminum bail wire.
The drag system of this fish catching reel is also durable, and it can catch large catfish and other bigger saltwater species such as sea trout and redfish. It also has a drag adjustment knob with a click that is tactile which is helpful because it tells you how far you have been loosening the drag.
Pros
Lightweight
Reliable and durable
Well built construction
Has a drag adjustment knob that is loud and tactile
Low cost
Cons
The line quickly gets caught on the hitch
Looks small
Also, the price is just right for this equipment; it costs around $49.99, but it performs just as good as the other reels.
Overall, this is a perfect piece of fishing equipment when it comes to affordability and strength. The only disadvantage is the line which, according to some anglers, quickly gets caught on the hitch.
Some also say that it looks so small even though it comes in different sizes. Still, Its size and appearance do not affect its catching ability. This device is certainly a good pick for budget-conscious anglers looking for quality reels.
4. Penn Battle II Spinning Reel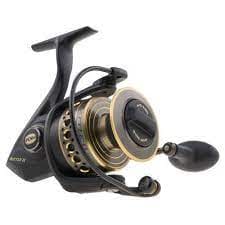 Penn Battle is an upgraded version of Penn Battle.
This spinning reel has a full-metal body and is made up of the famous Spinfisher V which has built its reputation for its durability. When the spinning reel is full of load, Spinfisher V maintains the reel's gear alignment. It is also perfect for the surf, boat or kayak.
Pros
Has durable and satisfactory construction
Versatile
Has improved line management
Cons
A little bit weighty
Produces annoying sound
Penn Battle II Spinning Reel has improved line management, including additional line capacity rings, which help the angler know when the spool is sufficiently filled; it also ensures that there is no excess line in the spool which makes it also easy to use in catching huge fish.
The cost of this reel ranges from $99.99-$119.99, which is not a bad price for a quality saltwater spinning reel. You can choose from sizes 1000 to 8000, depending if you are fishing in freshwater or saltwater. The anti-reverse bearing is useful to prevent tangled lines.
One downside of this reel is its weight. For example, the size 3000 weighs over 11 ounces which is 1-2 ounces heavier than the preferred 9-10 ounces. Some anglers also experience hearing meat-grinder sounds elicited by the reel after long hours of using it.
5. Sougayilang Left/Right Collapsible Handle Spinning Fishing Reel
This type of reel can be one of the most versatile reels that you can choose. It is excellent for both freshwater and saltwater fishing. Its spool is the pure aluminum, and it has a high tensile gear. Many anglers use this for catching salmon, bluegills, crappies, and trout.
This type of reel is also suitable for ocean rock fishing, ocean seashore, and boat fishing, and even in lakes, rivers, and ponds. It has an S-curve oscillation system for proper line winding and a collapsible metal handle.
Pros
It can be used for both freshwater and saltwater.
It has an anti-reverse feature
Compatible with other fishing rods
Cons
Not fitted to catch bigger fish
The base and stem can break easily.
This type of reel is also compatible with several fishing rods.
Like other fishing reels, it has an instant anti-reverse feature which is smooth, and you can easily adjust the drag to your preferred level.
The base and stem of the reel are a combination of plastic and graphite with a metal finish making it not fitting for catching big fish as compared to pure metal ones. Because of this, there is a possibility that the base and stem will break under pressure.
I know you are still confused, and you don't know which one to choose because all of these spinning reels are amazing as they offer unique features to any fishing enthusiast.
But even though the spinning reels I presented in this article are excellent, there is only one best spinning reel that will surely work for you. It is the KastKing Summer Spinning Reel Light Weight Ultra Smooth Powerful Spinning Fishing Reel 9 +1 BB.
This spinning wheel model is the best equipment because its price is very competitive in the market, even without compromising its exceptional features. It is also suitable in both saltwater and freshwater. This stuff will surely fit anyone who wants to go fishing; whether you are a novice or expert fisher, this reel is a perfect fit for you.
This fishing equipment is lightweight, and it is also user-friendly because it has an instant anti-reverse and easily adjustable drag. Apart from that, it is also well-built and long-lasting. And with all of its versatile functionality, this elegant tool will also satisfy you with its utterly perfect look on any fishing rod.
Related Reads: