I believe everyone has their own unique way of living the dream. I'd love to just go out there in the wilderness and cast my rod for a relaxing day of fly fishing. I'm sure men and women alike would appreciate getting to come back to nature – and if you ask me you'll only get to experience the best fly fishing in Colorado!
The Best Fly Fishing In Colorado!
Why Get Into Fly Fishing?
How Can I Experience A Great Fly Fishing Adventure?
Introducing The Top 8 Best Places To Fly Fish In Colorado
South Platte
Indian Peaks
Upper Colorado
Frying Pan River
Spinney Mountain Reservoir
Blue Mesa Reservoir
Animas River
Blue River
Why Get Into Fly Fishing?
According to fishingoutdoors.org Fly fishing is both a relaxing hobby and stress reliever. I enjoy just how serene the feeling of moving the body to the flow of your trusty rod and casting that line is when I'm out there trying to catch.
It doesn't cost that much! Check out here for some budget tips!
Competing with friends for fun or for prizes is also another way to enjoy it!
It makes me feel at one with nature and appreciate its immense beauty. It gives me time for myself and my thoughts, away from the addictive plague of technology.
I even feel a great relaxed and revitalized energy giving me the strength to face the challenges of tomorrow!
How Can I Experience A Great Fly Fishing Adventure?
Like I said, I had the greatest time of my life and got to experience only in Colorado! It had a wide array of great fishes to catch – Big or small, they've got it all!
Hear the sound of that flowing river calling to you – grab that rod, cast that line. Give yourself that push to finally heal that wounded soul and discover what you've needed all this time.
Introducing The Top 8 Best Places To Fly Fish In Colorado
Here are the top 8 best places to fly fish in Colorado :
1. South Platte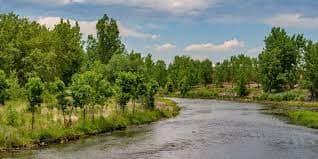 This river is a long stretch with a wide variety of fish to catch! Because it's a large area and is widely popular with access to the public, the tendency is for crowds to gather. Don't worry! There's always space for you in the banks – you'll get to choose just what you want.
​Depending on the area, everyone will have the chance to catch some trout, Carp, Bass, Cutthroats or Salmon, it's a big party of fish variety out there!
​Bait or Lure: Suggested flies to be used would be smaller ones, most of the fish around though many are usually medium to small in size and weight with the occasional large ones lurking around the corners.
​Best time for fishing: Great both for morning or afternoon fishing. All year round!
​Bonus: This has public access so it's great for group fishing with your friends and family!
2. Indian Peaks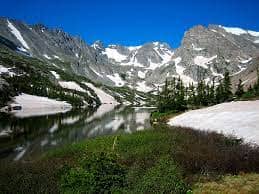 Known for its beautiful landscapes and amazing fish (like Cutthroats and Rainbows!) that are always biting, it's no wonder that this wilderness has been featured as one of the best locations for fly fishing.
​Clear and tranquil waters, cool and fresh humidity and a nice green stretch of plants and water for an adventure! Watch out though, you might want to pack an extra sweater for this. It can get quite cold out there! The fish population is in the thousands – that basket will be full in no time!
​Bait or Lure: We suggest carrying flies of all kinds here; you'll never know what can come up! Dry flies also get the job done.
​Best time for fishing: Great place for some morning fishing during spring or summertime.
​Bonus: Bring a nice hot cup in your thermos or a kettle for boiling water. It's a great place to enjoy a nice hot cup of coffee or tea!
3. Upper Colorado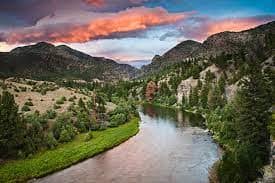 The rivers in upper Colorado are the best when it comes to early morning fishing! If you're looking to catch a lot then here's a great place to start, and finish the day! You'll literally be reeling in dozens of quality fish! Big juicy trout are always out there just waiting to get caught.
​Find your spot early, and try to pick an early springtime break for fishing. I guarantee the more will come at that time of the year.
​Bait or Lure: Mix it up here, any preferred arsenal will do given its large area and diversity of available catchers.
​Best time for fishing: Get up early in the morning! Get yourself ready early in the springtime or late fall.
​Bonus: It's a long river so you'd best be ready for a long ride. Pack some nice snacks along the way and wear those outdoor boots!
4. Frying Pan River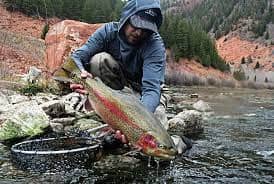 One of the most popular places to fly fish is the Frying Pan River. Home to many trout fish and is an award-winning destination world-renowned for its tranquil and clear flowing waters where one can easily catch the big ones!
​Big and heavy Rainbows always find their way into the reels and you'll definitely get one just moments after you've started getting comfortable! Aside from the enjoyment of fishing, you'll also get to appreciate the beauty of the view of the mountains here!
​Bait or Lure: Use dry flies while standing on those shallow waters for a great platform to launch that line to where the fish are biting!
Best time for fishing: Springtime, early morning or late afternoon fishing.
​Bonus: Bring a camera along! You'll love the view and it's always great to have a snapshot of you finally landing a big one!
5. Spinney Mountain Reservoir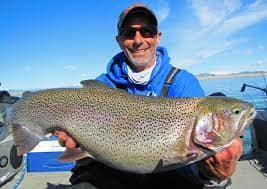 Last but not the least! Another widely popular place to fly fish is in Spinney Mountain Reservoir, best experienced during the summertime! It has a wonderful view where nature can be seen at its best. And the fish keep on biting as well!
​Home to Rainbows, Cutthroats, and Browns, this reservoir has definitely earned its Gold Medal Water award hands down!
​Bait or Lure: Anything goes here, recommended, however, would be dry flies. Nymphs will work well, too.
​Best time for fishing: Morning or afternoon fishing during the peak of summertime
​Bonus: If you'd want to take a quick break after hours of fly fishing, you can also try belly boating! This body of water has got a wonderful shoreline!
6. Blue Mesa Reservoir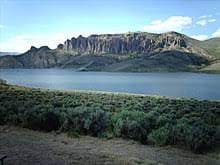 Situated in the diverse geography of the state, this is a must-see destination for both local and international travelers. Considered as the largest lake in Colorado, this body of water is home to many kinds of fish such as Kokanee Salmon, Lake trout, and Rainbow trout.
​Kokanee Salmon is said to be the biggest of the fishes found here; according to the Department of Fish and Wildlife, this trout can grow up to 12 inches. In my experience, the month of July is excellent for fishing. The temperature during this season can be anywhere between 5 and 28-degree Celsius.
7. Animas River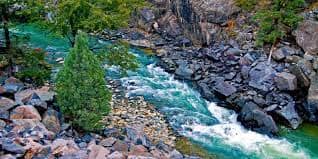 Animas River, a section found in the western part of the United States, divides the Colorado River System. It is an excellent place for fishing, especially during winter and fall.
The river's majesty captures not only birds but also different types of fishes, most of which are from the family Salmonidae. If you plan to go here, I suggest that you don't miss to visit the city of Durango as it has the best public access to the said river.
Visiting this spot helped me to forget my troubles and gave me the opportunity to experience a "heaven on earth" feeling as I was deeply troubled when I explored this beautiful place.
8. Blue River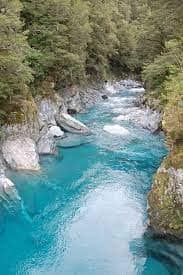 You won't feel "blue" when you arrive at the Blue River. Situated in Hoosier Pass, the river flows North through Breckenridge. This river is relatively small compared to Blue Mesa Reservoir. According to fishcolorado.com, it measures about 6 kilometers squared.
This enticing tourist spot is an excellent place not only for fly-fishing but also for canoeing and kayaking. You can also get more useful information on how to choose the best fishing kayak through this link, and it is beneficial for you. When I recently went there, I was able to catch big trout; one fish even measured 24 inches! Typically, the water temperature here ranges from 13 to 15-degree Celsius.
If you get tired of fishing, you can also try shopping. Because outlet stores are not rare at Silverthorne, you can also buy souvenirs while fishing.
Just visit the place between 11 am and 3 pm, so that you won't miss the non-stop fishes roaming around—not only fishes, there are also other adorable aquatic animals like the Mysis shrimp.
​If you are on a day off, sick and tired of staying at home and want to try a new way of recreational activity which is beyond the traditional means, I strongly suggest that you try fishing in any of the places that I enjoyed.
​When you fly fish, you have to consider also that wearing the appropriate fly fishing clothing is helpful for you to be more comfortable and productive on the water. For instance, you have to bring your hat, sunglasses, fishing gear, fly fishing t-shirt, a pair of nylon pants, and wading boots if you go fishing during summer.
​Furthermore, before you go in any of the waters in Colorado, you must first get a fishing license, so you will not get fined or penalized. But you don't have to worry about obtaining a fishing license as the process is just so simple. Just visit fishinglicense.org for more details.
​Have you enjoyed reading this as much as I enjoyed reaching out to all of you? I just love fly fishing and I know you'll love it, too! If you've got anything you'd want to say, don't hesitate to put them in the comments! I'd highly appreciate that!
Related Reads